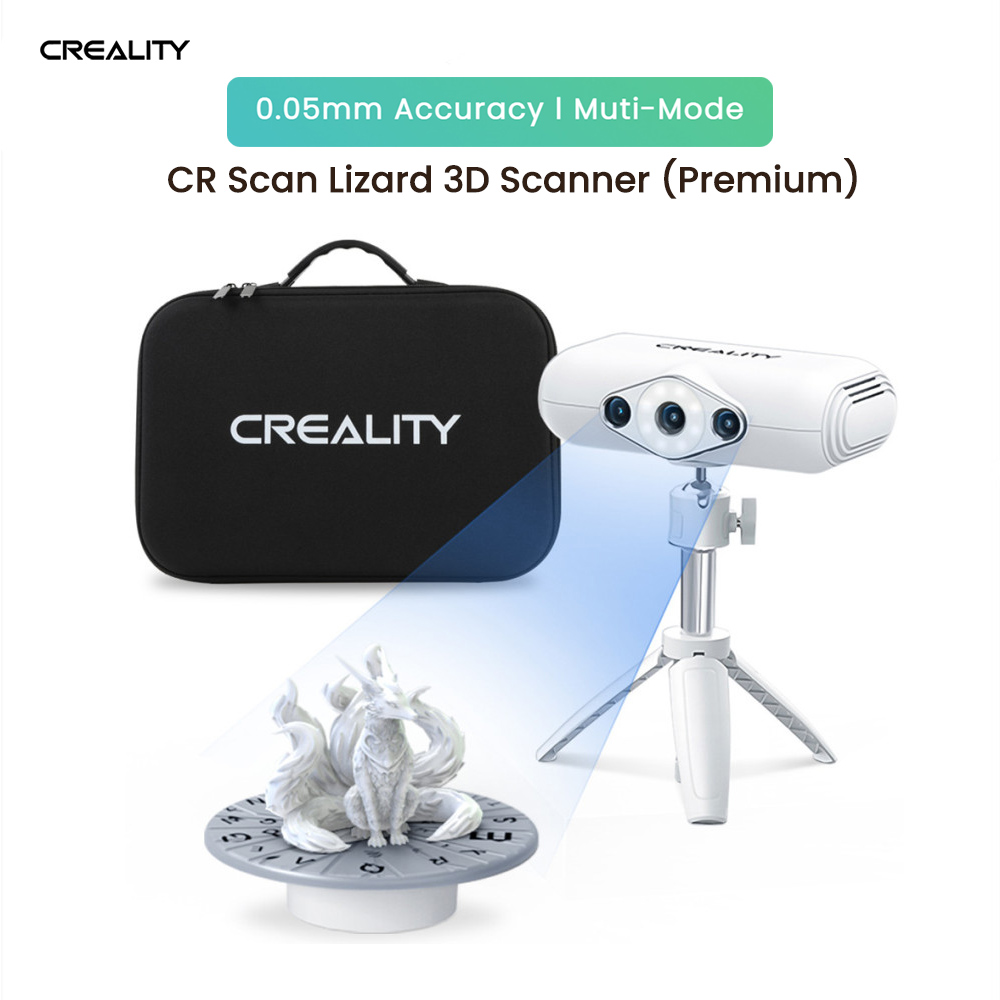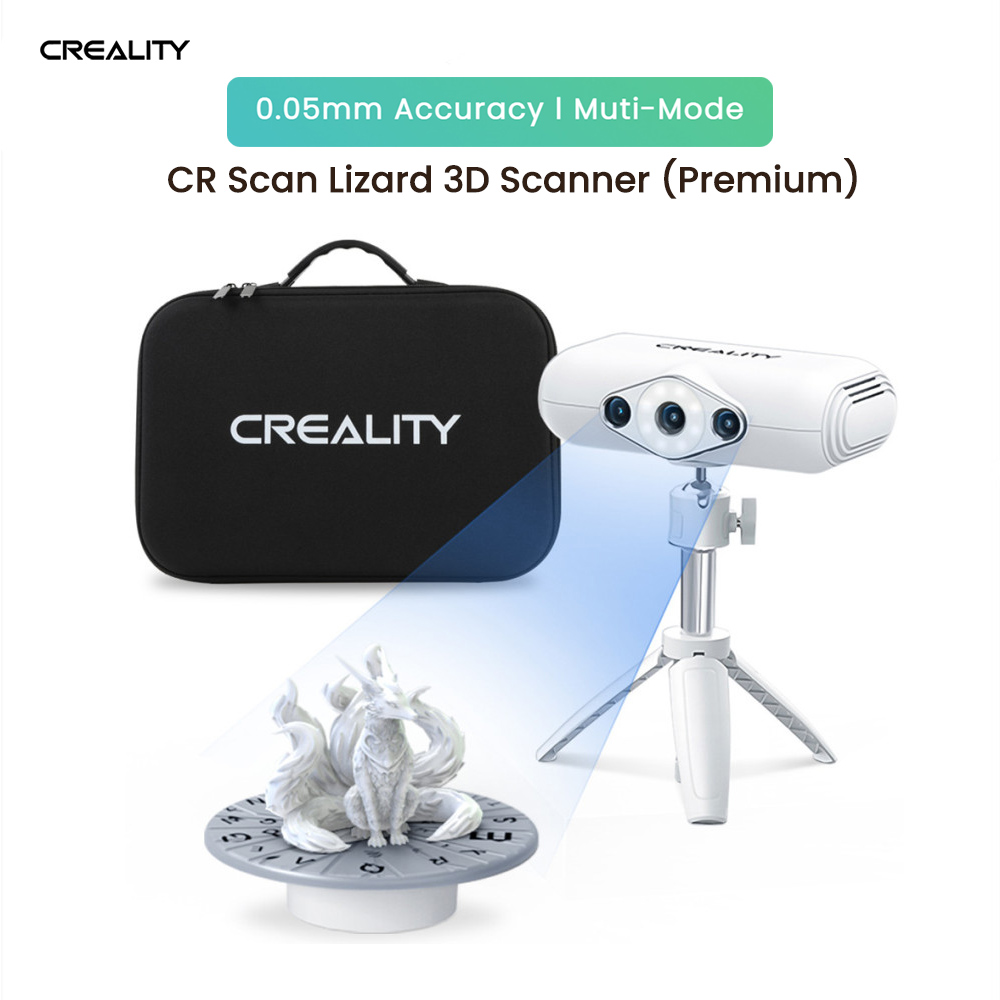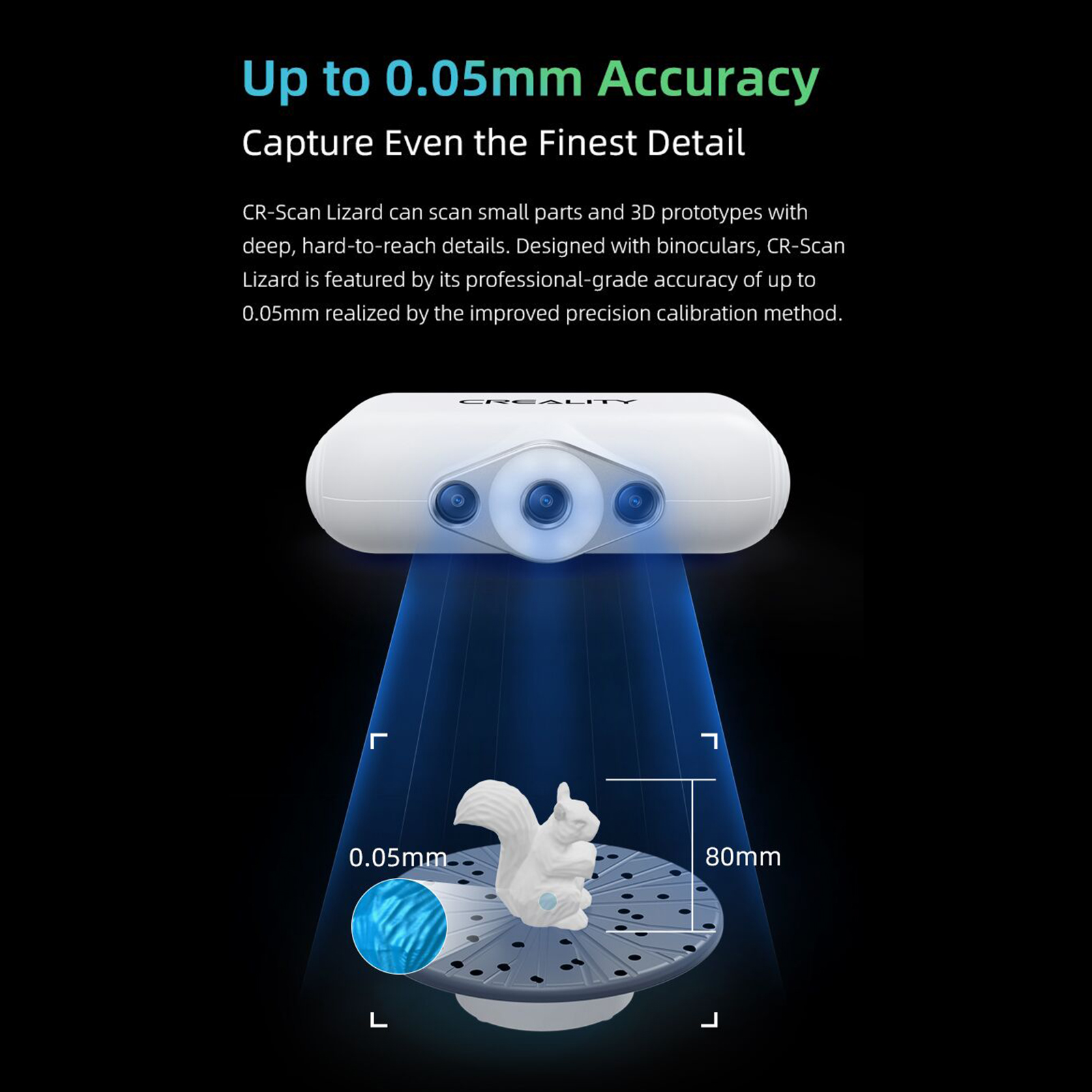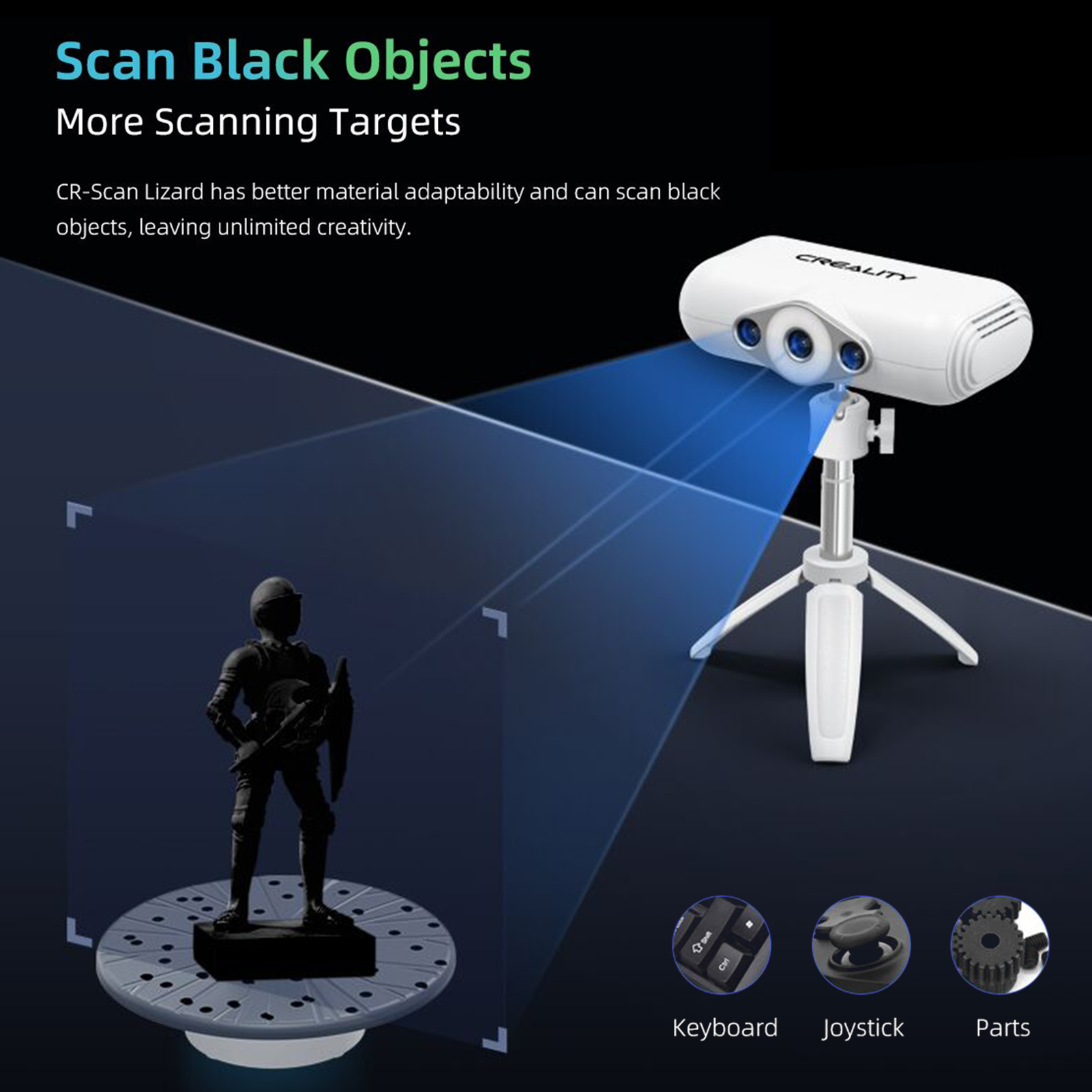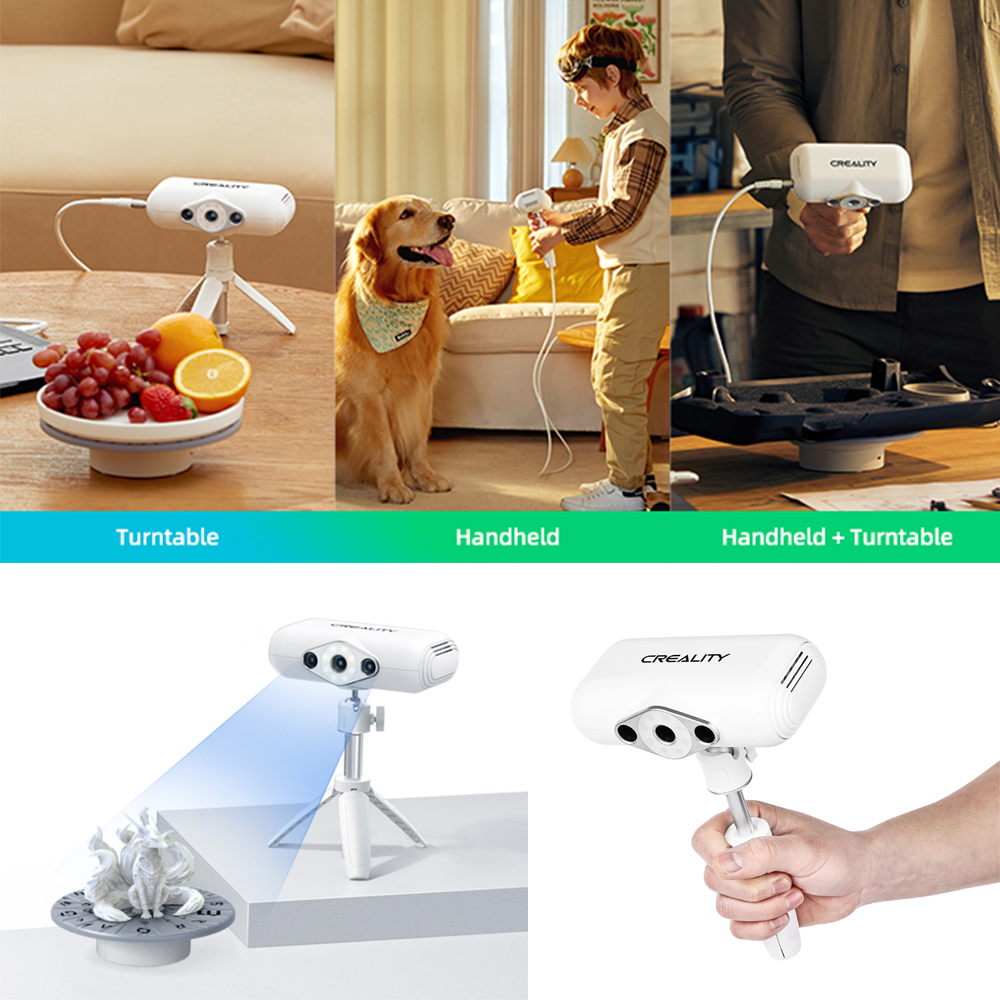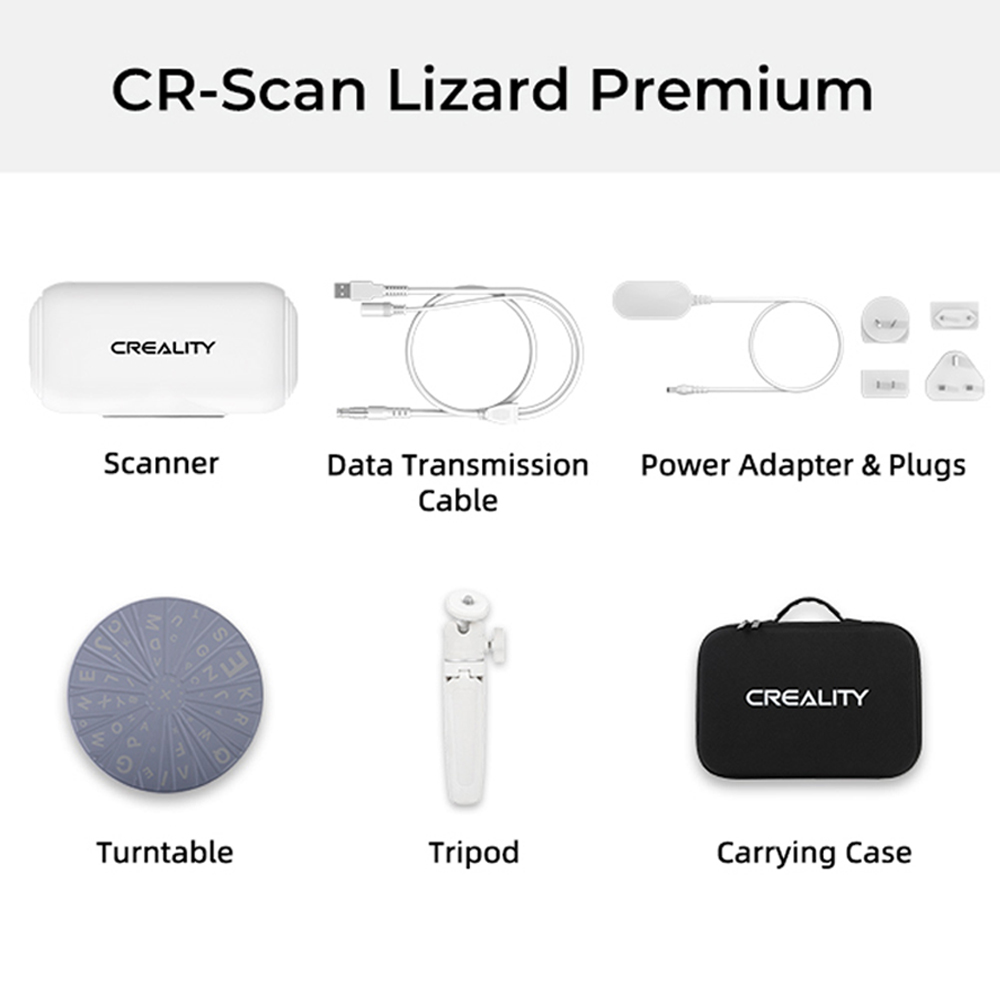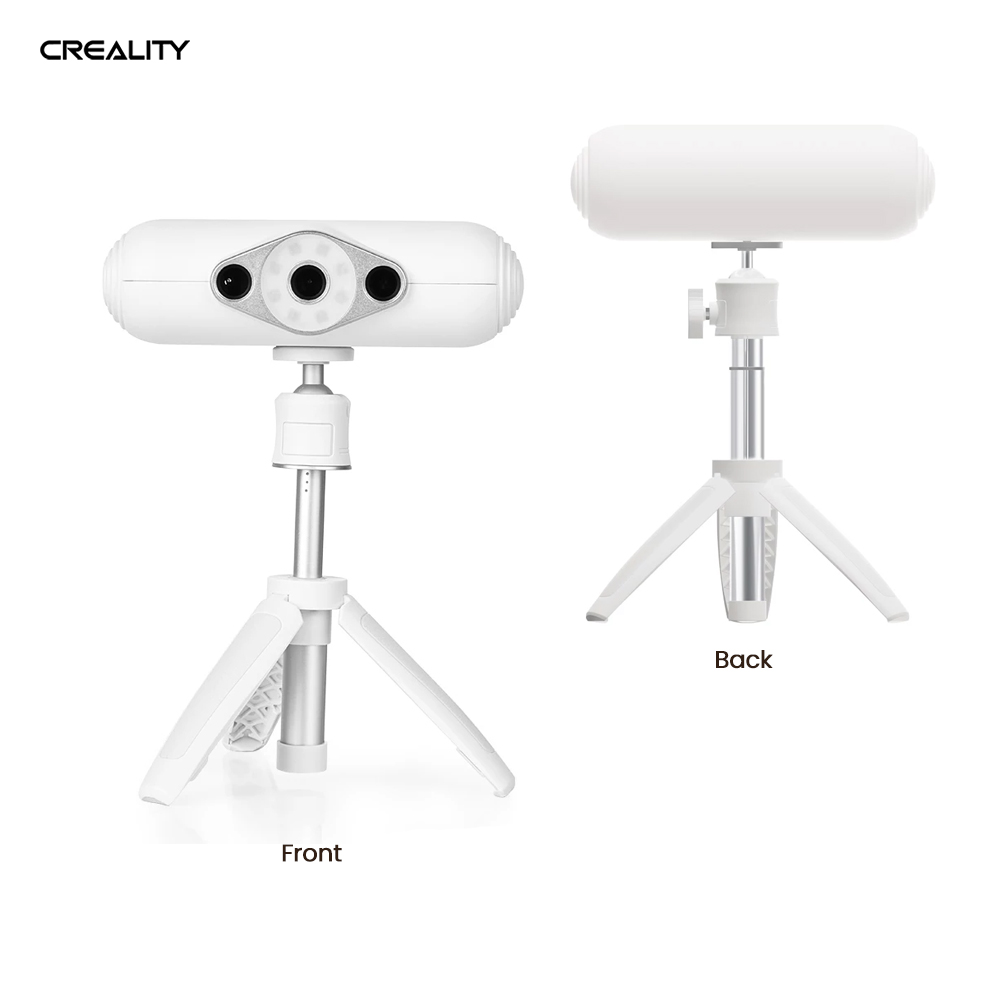 Creality CR-Scan Lizard 3D Scanner - Premium Set
Kits(Set)

Please select product attributes before purchasing~~
Ship to
It is expected to arrive within and will cost
$
USD
to ship
This item can't be shipped to this Country/Region
Bundles
${ meal.bage }
${ meal.title }
${ meal.skus }
${ sku.name }:
${ skuVal }
People who bought this item also bought
CREALITY CR-Scan Lizard 3D Scanner 0.05mm Accuracy Scan Without Sticking Point Scan in Sunlight Premium Version For 3D Printers
1. Up to 0.05 mm Accuracy
Designed with binoculars, CR-Scan Lizard is featured by its professional-grade accuracy of up to 0.05 mm. It can scan small parts and 3D prototypes with deep, hard-to-reach details.
2. No-marker Scanning
CR-Scan Lizard is a real time saver. The intelligent algorithm makes 3D scanning as easy as taking a video. No need to stick markers anymore, even for big parts like engine hood, car door, front or rear bumpers and so on.
3. Cloud upload, easy to share
By connecting the CR Studio software to the Creality Cloud cloud, you can upload the 3D model to the cloud, complete the slicing and 3D printing with one click, and also have the sharing function to satisfy the fun of sharing!
4. Scan in Bright Sunlight
Brightness is not a challenge for scanning.Designed by multi-spectral optical technology, CR-Scan Lizard maintains excellent performance even in bright sunlight, vastly improving environmental adaptability.
5. Scan Black Objects
CR-Scan Lizard has better material adaptability and can scan black objects, leaving unlimited creativity.
6. Diverse compatible software
CR-Scan Lizard can be operated with Windows 10 64bit and MacOS system, and supports Blender, Maya, Rhino, 3DMax, Fusion 360 for free. . . And so on a variety of humanized design software.
7. Easy to charge!
In addition to direct plug-in and USB charging, CR-Scan Lizard can also be charged with a charger (sold separately), even in places without power, it can be taken outdoors for scanning, improving scanning flexibility, It brings more convenience to users.
-Creality CR Lizard 3D Scanner: FAQ & Troubleshooting-
Q1: What is the size of object that Lizard could scan?
A: Our suggestion minimum size is 15mm ×15 mm×15mm.
Smaller object also could be scanned by cr scan.There are some tutorial video on Youtube Channel you can follow.
However, please note that transparent, highly reflective, thin objects like hair, are not ideal targets for most 3D scanners, including the CR Scan Lizard.
Scanning Area(Single Capture Range): 200*100mm
Working Distance: 150-400mm
Minimum Scanning: 15*15*15mm
Scanning Range(Handheld): 300-2000mm
Scanning Range(Turntable): 15-300mm
Q2: Does the software work with Linux/Unbuntu、MacOS?
A: Yes. CR-Scan Lizard can be operated with Windows 10 64bit and MacOS system, and supports Blender, Maya, Rhino, 3DMax, Fusion 360 for free. . . And so on a variety of humanized design software.
Q3: What type of files does it produce?
A:The output format: OBJ/STL/PLY
Q4: What is the main differences of Lizard with Scan 01, CR-Scan 01 VS CR-Scan Lizard - which one is better?
Both of them have a similar concept of scanning. the Lizard can scan an object without the help of the markers since it has the help of a visual tracking algorithm. It goes the same for the CR-scan 01. Both of the scanners have the option of storage and the conection to the Creality Cloud .
Biggest Difference:
1. Printing Accuracy.
The Lizard has better accuracy (Lizard has 0.05mm, the Scan 01 has 0.1mm),
2. Scanning Environment
The CR-Scan 01 is a little bit more delicate when it comes to lighting and the space where it can scan. It works great in a room where the light is not that bright, but unfortunately the sunlight and outdoor are not the best choice for it.
3. Max Scanning Distance
The CR-Scan 01 has a bigger range :from 400mm up to 900mm.
The Lizard is 150-400mm;
Q5: Can support to connect with the Bluetooth? Can support to scan color item?
A: NO, It not support to connect with the Bluetooth.
For models with many colors, the scanning results are easily affected. It is recommended to increase the scanning frequency appropriately, and synthesize after multi-directional scanning.
If possible, try to choose a monochrome model.
Q6: Why is my scanned image result incomplete? It doesn't seem to be able to scan?
A:
①Transparent, translucent and reflective objects cannot be accurately scanned. The light reflects of this type of surface and it confuses the scanner. We can easly solve this problem with a plaster spray, if you need to scan an object that you can easly then wash of.
②Lizard is suitable for scanning small objects, but in a bright environment, if the model has many fine details, it cannot be captured. You can:
- Extend scanning time
- Try different placements to scan separately, and then composite the image
- Try to scan in a relatively dark environment
<img src="../../../files/html/20220221/Scan_04.jpg" alt="creality CR-Scan Lizard 3d scanner, creality 3d scanner kit"" width="100%" height="auto" />>
CR Studio(Scan)For Windows, For Mac
Download
カスタマーレビュー
Write A Review
Ask A Question
Reviews (0)
Questions (0)