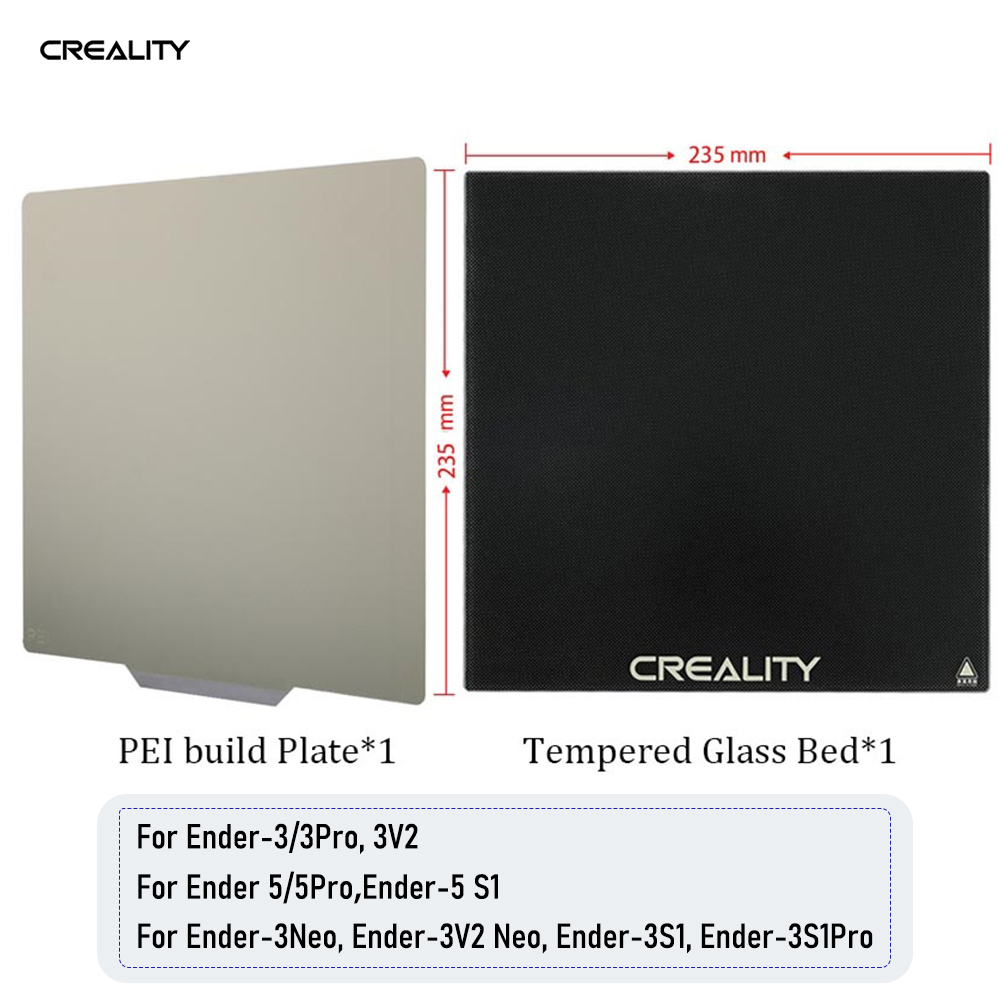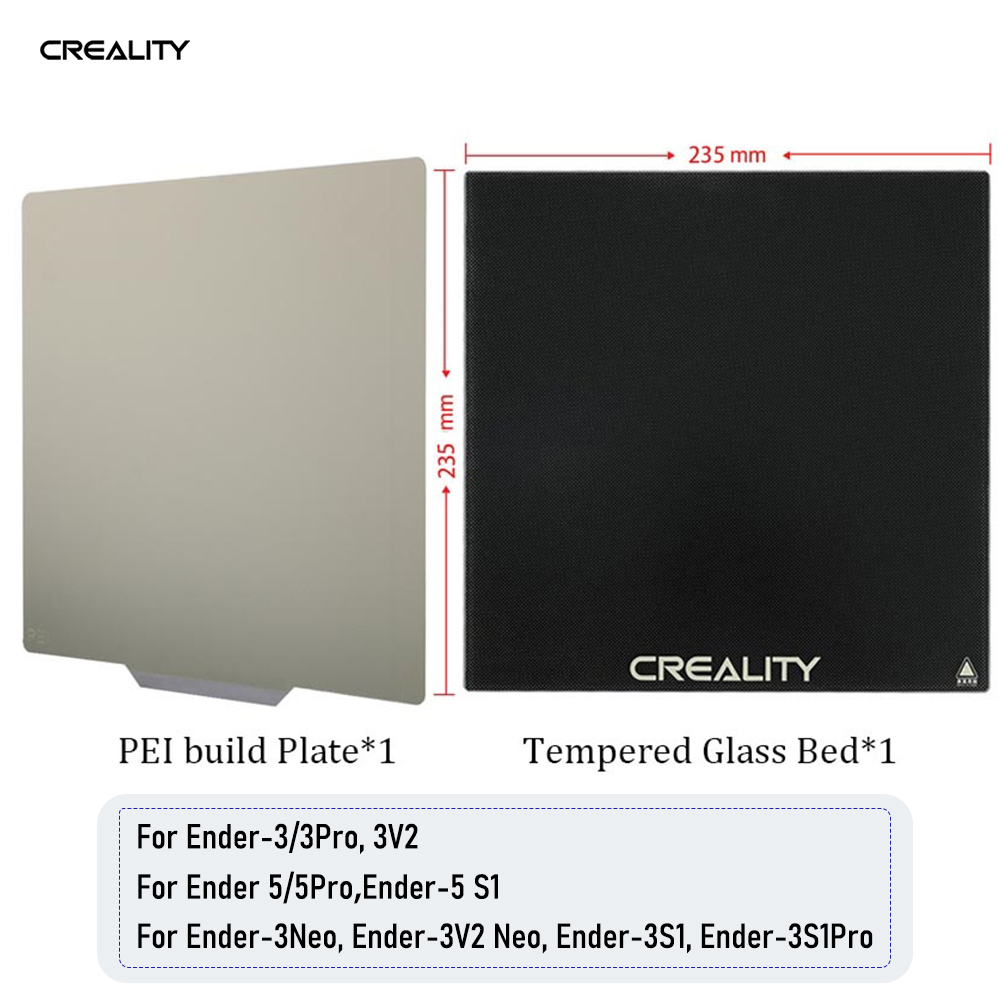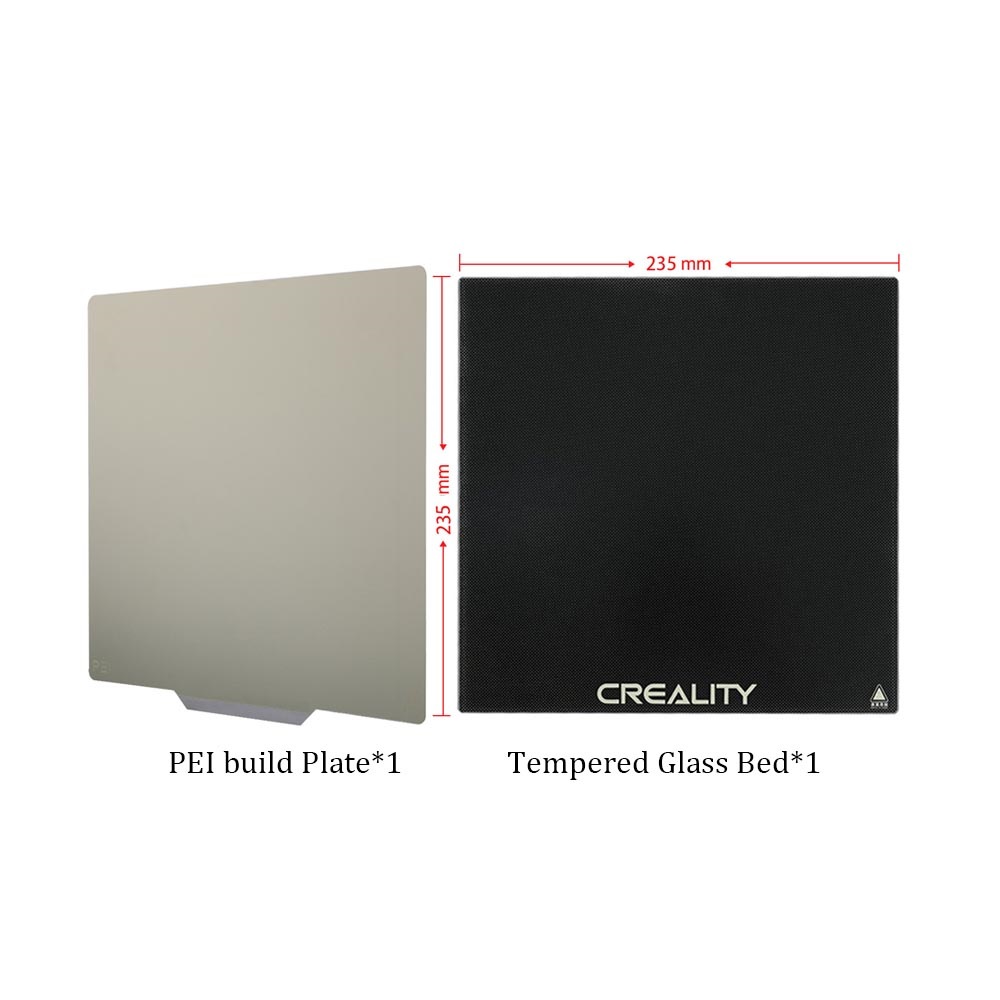 Creality Build Plates: PEI Plate+Tempered Glass
Apply to

Please select product attributes before purchasing~~
Ship to
It is expected to arrive within and will cost
$
USD
to ship
This item can't be shipped to this Country/Region
Bundles
${ meal.bage }
${ meal.title }
${ meal.skus }
${ sku.name }:
${ skuVal }
How to choose the suitable 3D Printer Build Plate?
Carborundum Glass is one of the most popular building surfaces because it's simple. A glass sheet is an easy solution for most printers. It's stiff and flat, so it won't warp over time. After using for several times,the platform can be clean by using alcohol or acetone.
Creality Ender 3 Series Glass→ Learn More
Cmagnet Plate is a unique system that allows you to snap your prints off the bed just by flexing the bed. The composite magnetic material of strong and non-degaussing magnetic forces of the magnetic sticker, easy to be installed and removed.
Creality Ender 3 Series Cmagnet Plates→ Learn More

PEI has excellent mechanical properties, radiation resistance, high and low-temperature resistance, high-temperature stability, and high wear resistance as well as good flame retardancy, chemical resistance, and electrical insulation characteristics.
Creality Ender 3 Series Upgraded PEI Sheet→ Learn More
| | | | |
| --- | --- | --- | --- |
| | Ender 3 Glass | Cmagnet Plates | PEI Sheet |
| Size | 235*235*4mm | 235*235*1mm | 235*235*1.2mm |
| Temperature | 400° | 70° | 200° |
| Wight | 0.56kg | 0.26kg | 0.54kg |
| Material | Glass and composite materials | 0.38 Coarse Sand PC Mounted Soft Magnet | PEI |
| Repeated use | √ | √ | √ |
| Easy to install | √ | √ | √ |
| Flexible soft platform | × | √ | √ |
カスタマーレビュー
Write A Review
Ask A Question
Reviews (0)
Questions (0)