Have you upgraded your Ender 3 V2?
Creality's Ender 3 V2 consistently delivers great print quality right out of the box. However, there's always room for improvement when it comes to your 3D printer, and there are several Creality Ender 3 V2 upgrades and mods that can enhance Printing performance even further.
Print Bed
*PEI Sheet
The PEI magnetic bed has excellent adhesion for print, free your hands of tapes and glues. Build surface for hassle-free model removal. This printing surface is convenient for print removal and flexible. Simply print on the surface, bend the flexible surface and watch the model fall right into your hands. After the PEI sheet is applied, don't forget to re-level the print bed (that is, if your printer requires manual calibration).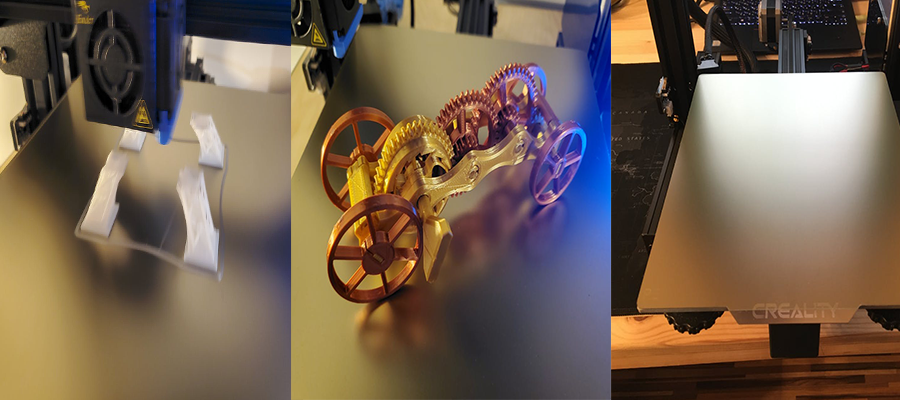 *Cmagnet Build Surface Plate
To use the Cmagnet Build Surface Plate, simply stick the flexible plate onto the print bed. Once the print is finished, peel up the top plate and gently bend it to remove the print.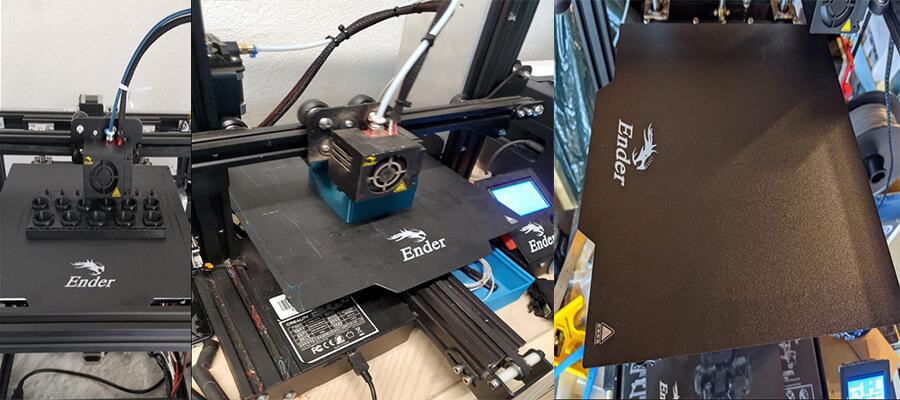 Auto Bed Leveling Sensor Kit
*BL Touch
Brief summary, BLTouch is an electronic sensor for 3D Printers which can precisely measure the distance between nozzle and bed surface, no matter what is the materials of the bed. When you print something, the printer will automatically adjust the Z-axis deviation between the nozzle and the bed according to the data that BL touch measured before. In this way, the nozzle will always be relatively parallel to the bed even the bed itself was not leveled.
*CR TOUCH
CR Touch is a Creality 3D research institute self-developed 3D printer platform leveling solution based on hundreds of millions of users' data used by the creators. Compared with the traditional automatic leveling, it is compatible with more 3D printer platforms, more stable, and cost-effective.CR Touch is upgraded to a metal probe, which reduces wear and tear and greatly prolongs its service life.
Nozzle/Hotend Kit
*Upgraded Direct Extruding Full Kits with Nozzles
This Creality extruder is 24V with 0.4mm nozzle kit which upgraded Ender 3 V2 3D printer to be directly extruding, More Precise feed-in.
New upgraded direct extruding nozzle kit has high quality, Integrated structure is convenient for wiring and replacing. Direct extruding smooth feed-in: It comes with a 40mm Nema17 quality motor, lower torque requirements on the stepper motor, reducing the possibility of nozzle blockage when retracting filament, and malfunction when loading new filament.Easy to install and use: Switch direct extrusion or Bowden extrusion at any time and easy to disassembly. It doesn't affect the inherent function of the printer because it is a complete extrusion kit. please must be careful with the cables connections.
*Tungsten Nozzle
Creality Tungsten Nozzle provides the highest hardness in the market and is far superior to ordinary hardened steel nozzle. It ensures continuous printing without replacing the nozzle, especially printing with filament such as PLA, ABS, etc. The Tungsten nozzle is more wear-resistant than the copper-plated nozzle. Tungsten nozzle has wide compatibility with Ender/CR series 3d printers.
Mainboard
Creality silent motherboard is upgraded from V4.2.2 to V4.2.7, the running speed is obviously accelerated and printing smoother. With TMC2225 stepper driver; firmware is modified on the basis of Marlin 2.0.1, with the dedicated port for bl touch and filament sensor port, convenient to DIY.
Other