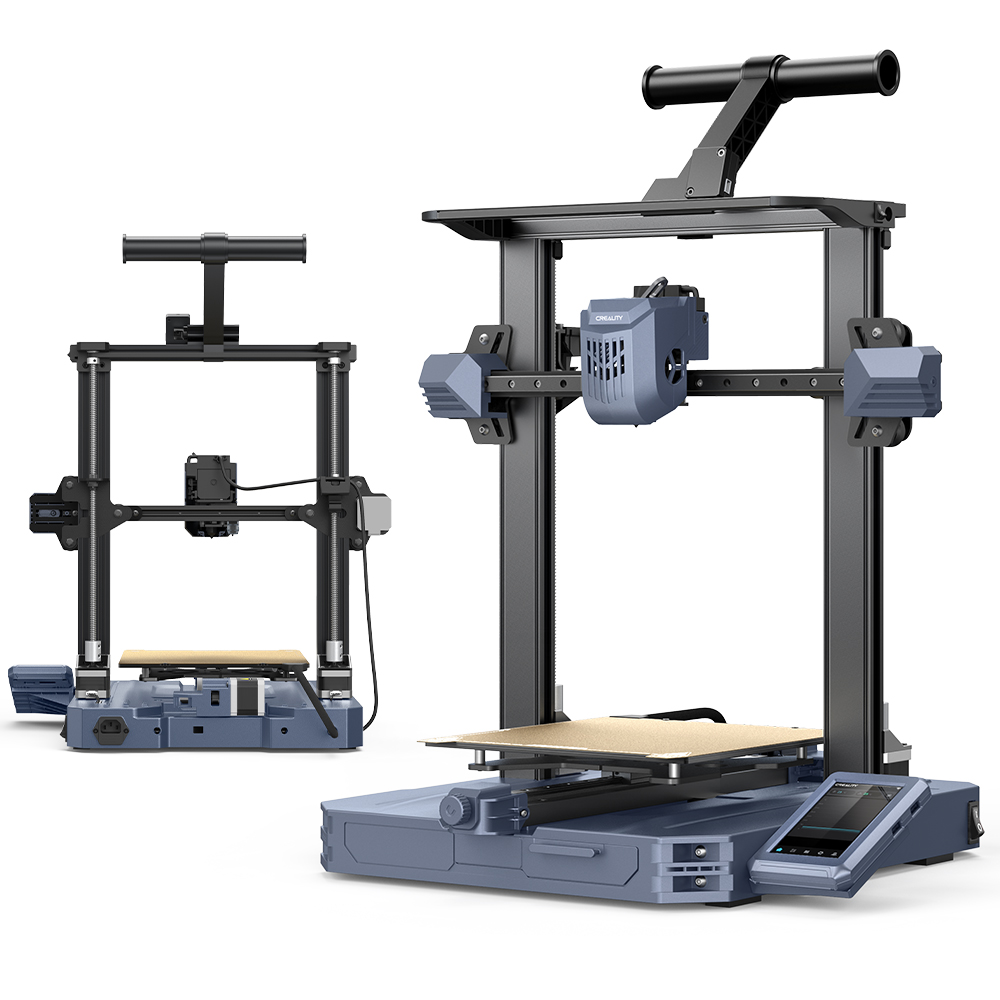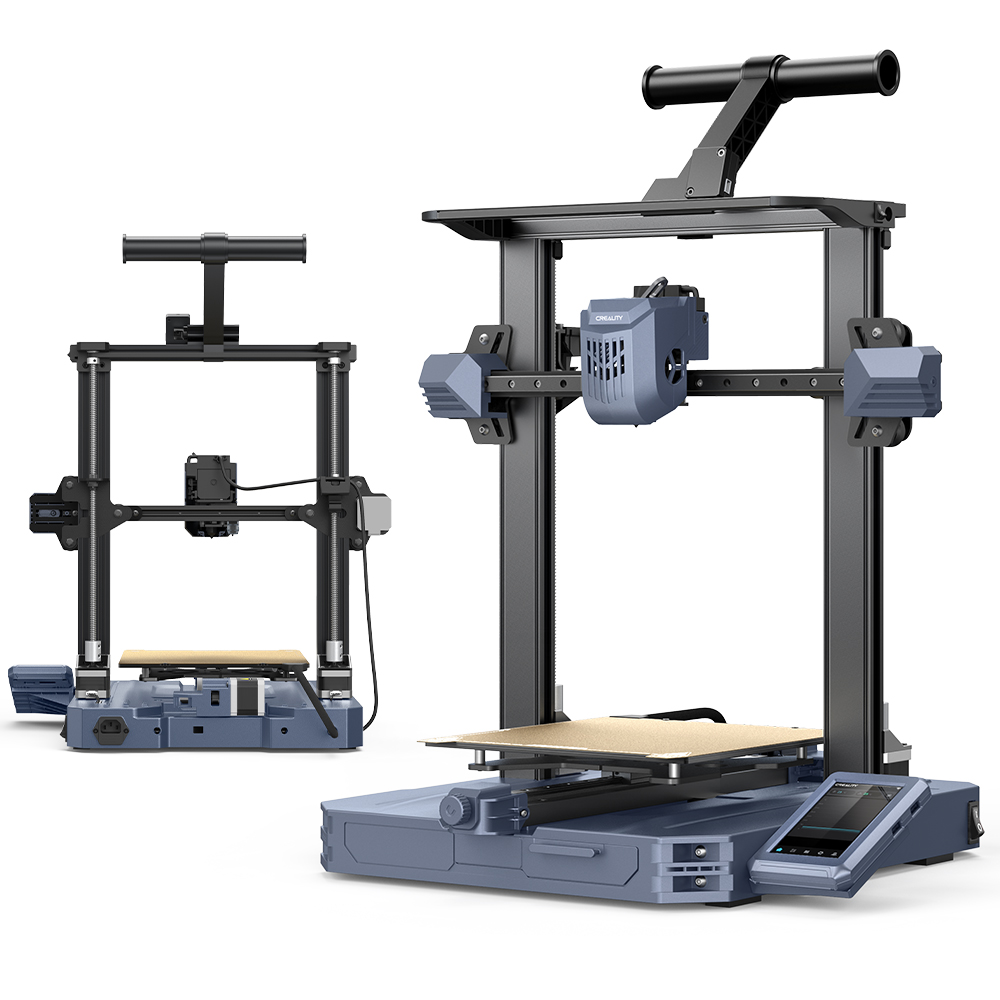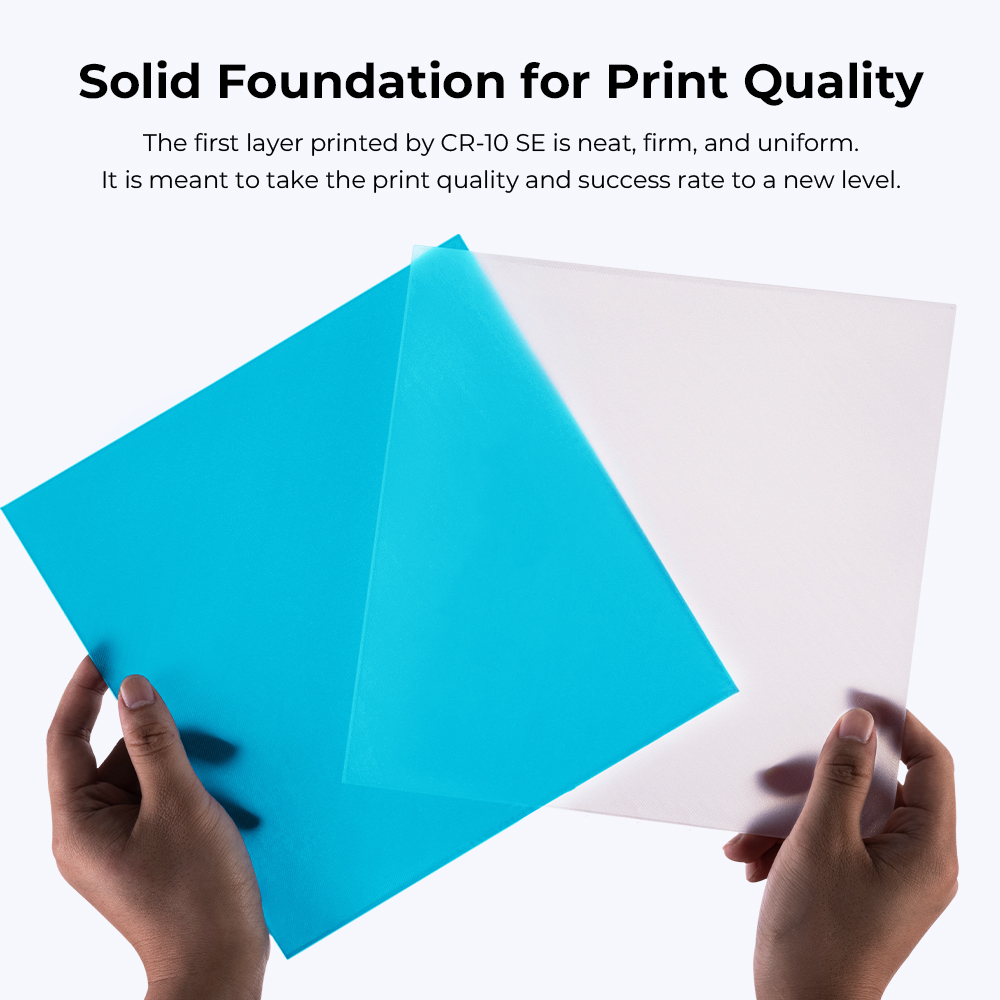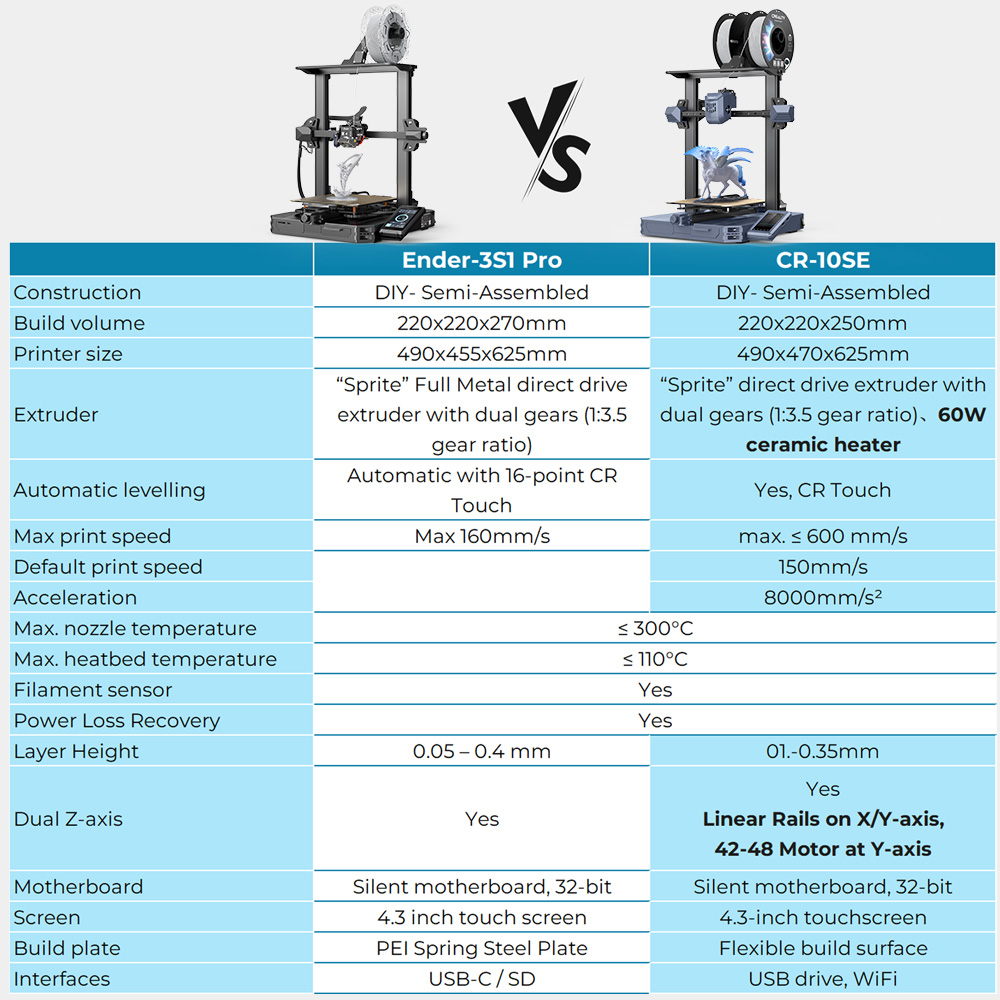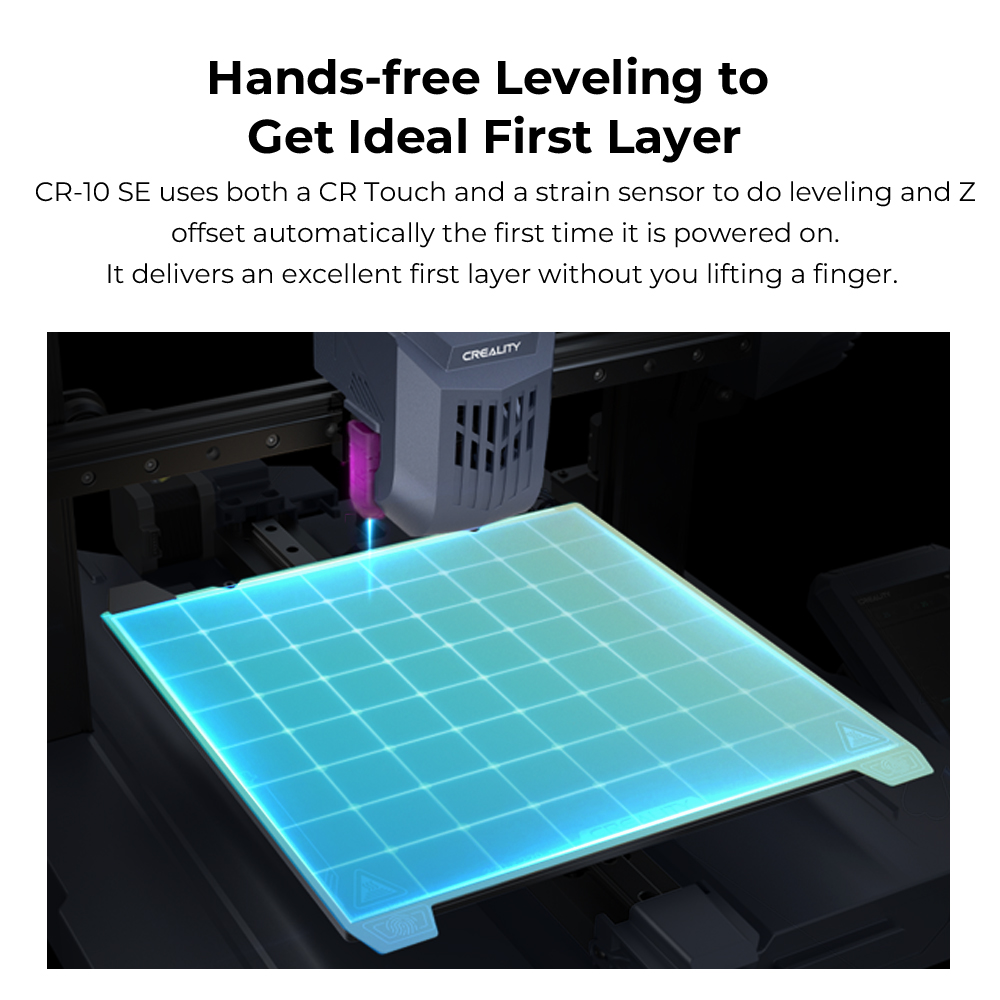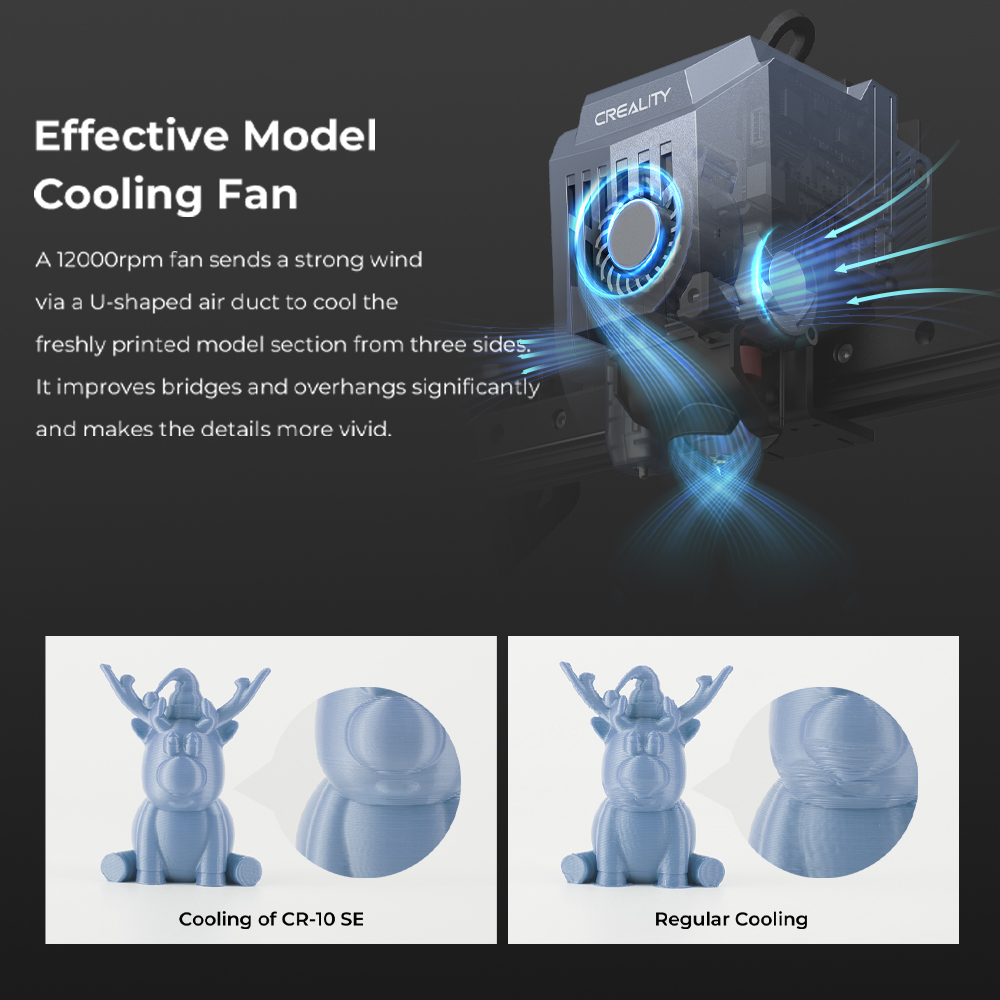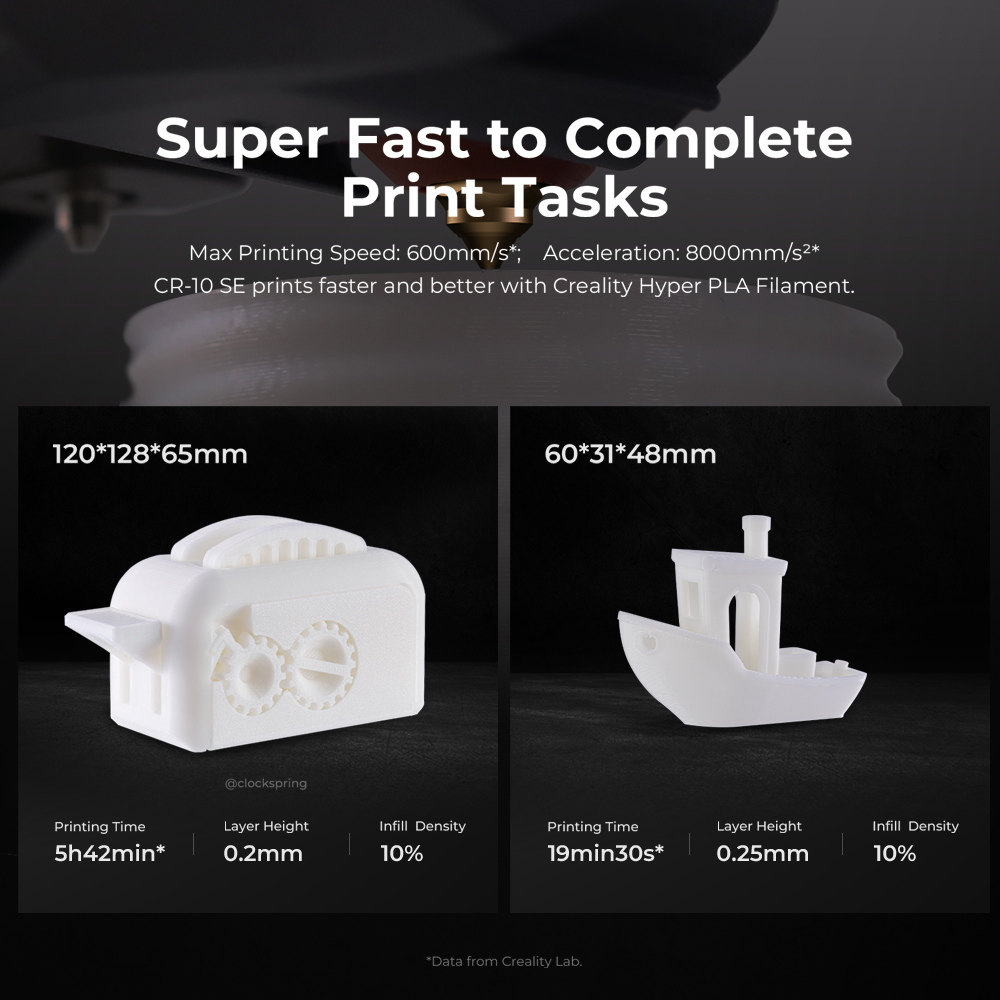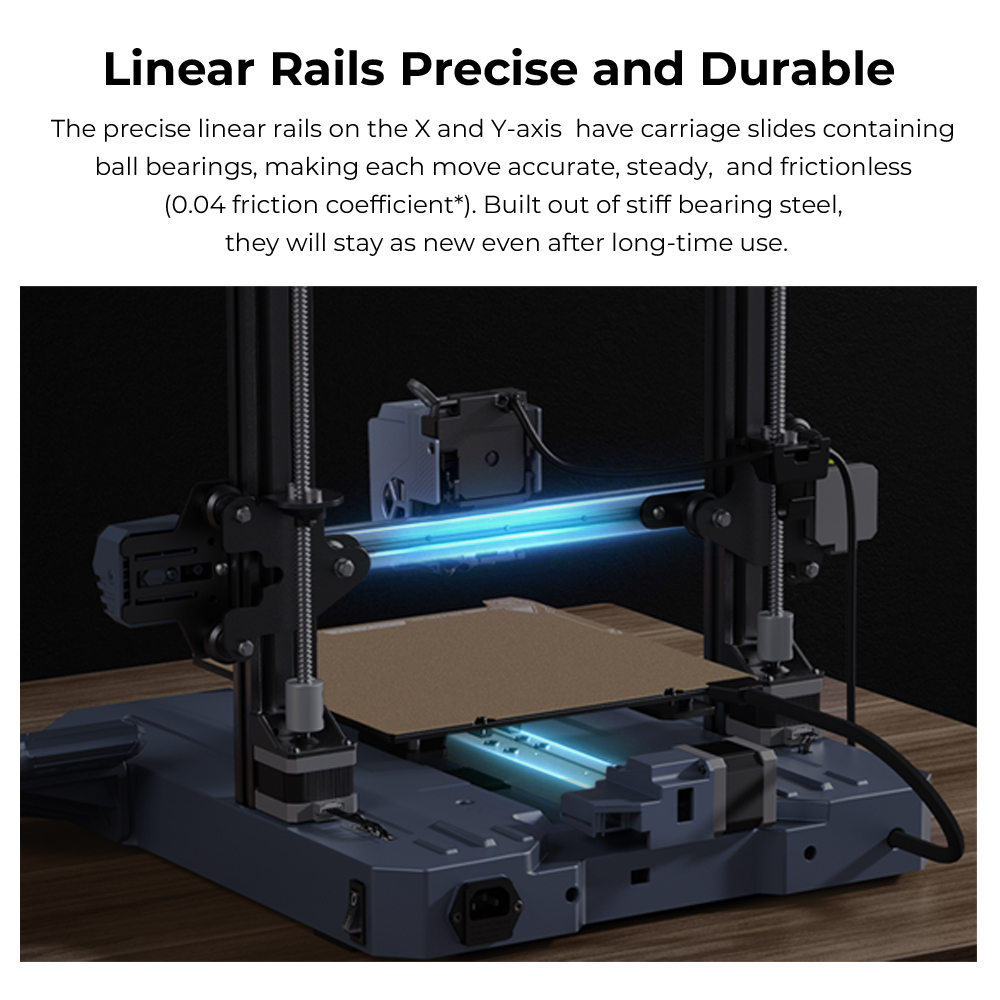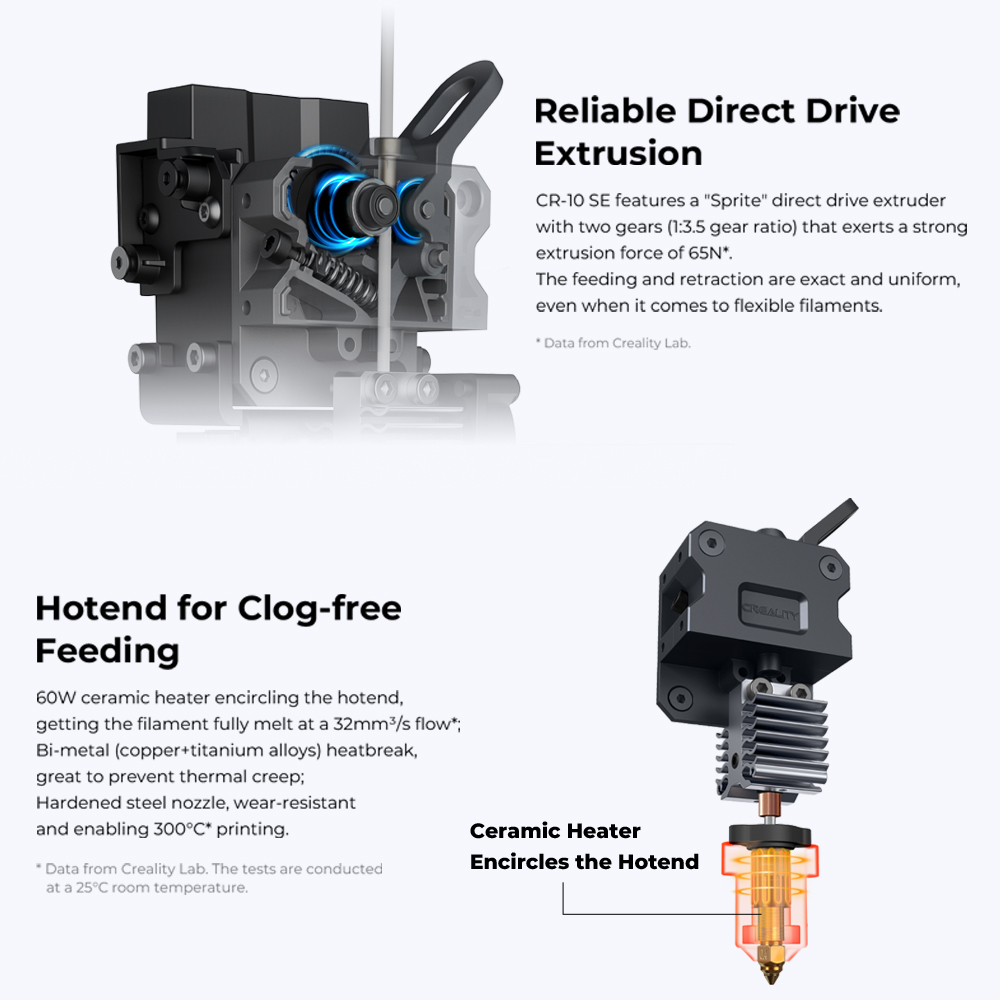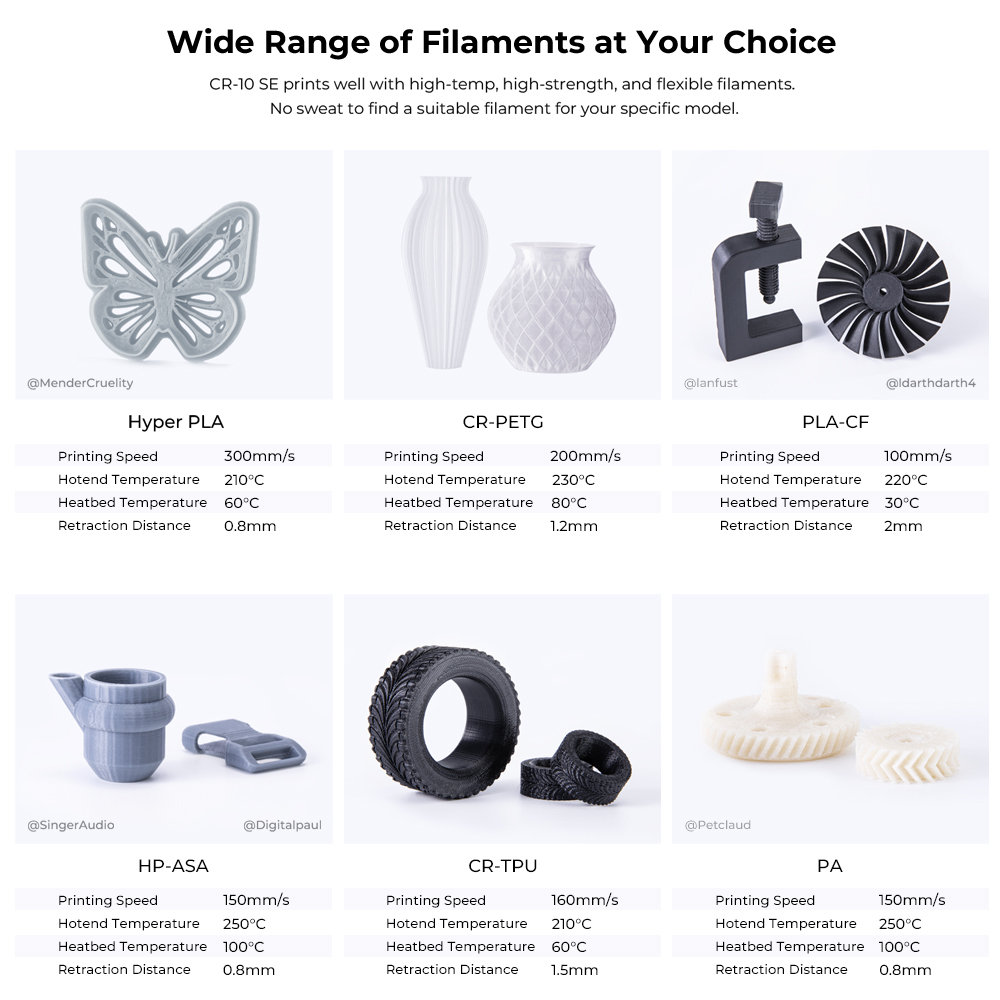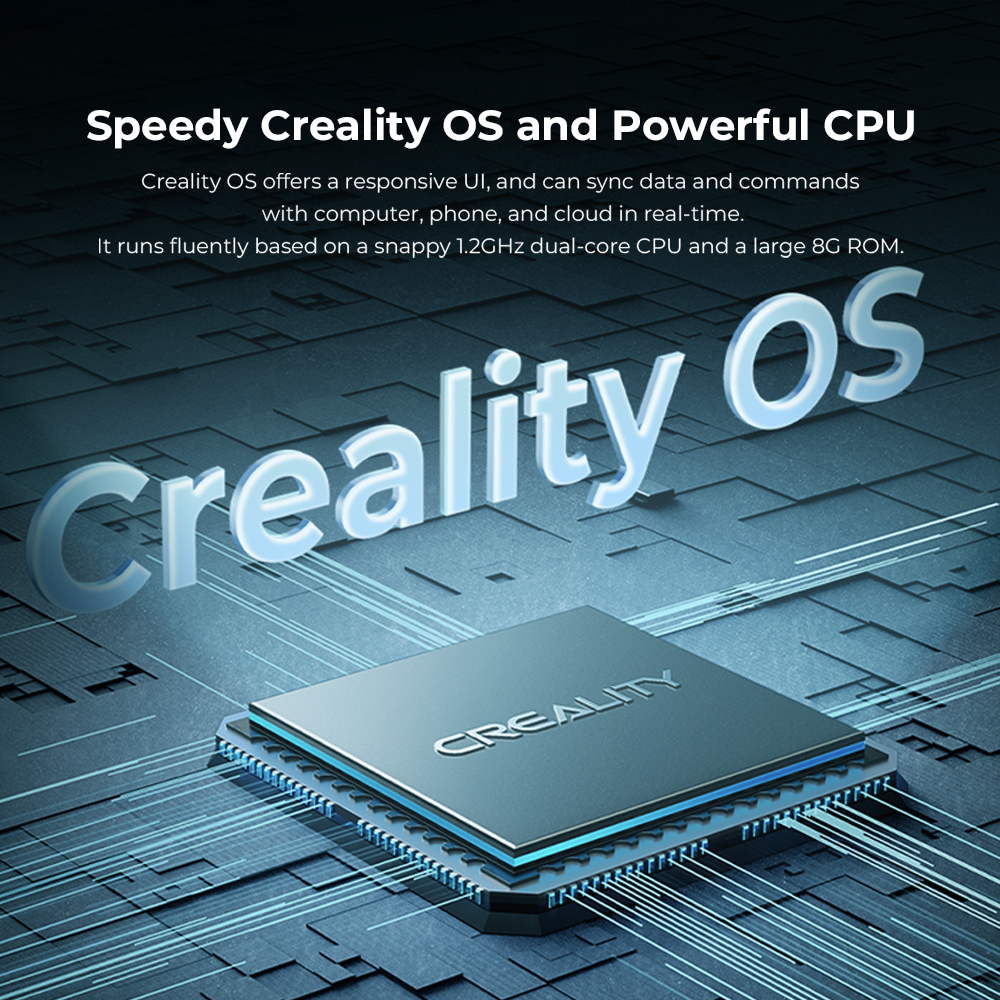 Creality CR-10 SE 3D Printer
Model-2

Please select product attributes before purchasing~~
Ship to
It is expected to arrive within and will cost
$
USD
to ship
This item can't be shipped to this Country/Region
Bundles
${ meal.bage }
${ meal.title }
${ meal.skus }
${ sku.name }:
${ skuVal }
CR-10 SE: High-speed printer with a maximum printing speed of 600 mm/s
- Maximum speed 600mm/s, acceleration 8000mm/s²
- X and Y-axis precision guide rails, independent air cooling, smart vibration pattern optimization
- Supports printing resumption after power outage and material outage detection to improve printing success rate.
- Copper-titanium alloy pipe + hardened steel nozzle, can reach 300℃, supports high temperature, high strength, soft and other materials.
- "Sprite" direct drive extruder with dual gears (1:3.5 gear ratio)
- PEI flexible printing substrate
- The CR Touch sensor is fully automatically calibrated; no manual adjustment is required throughout the process.
- Supports USB, LAN, and cloud printing.
- 4.3-inch touch screen, simple UI design.
K1

CR-10SE

Ender-3S1 Pro

Ender-3V3 SE

Construction

Open or Closed

DIY- Semi-Assembled

DIY- Semi-Assembled

DIY- Semi-Assembled

Build volume

220x220x250mm

220x220x265mm

220x220x270mm

220x220x250mm

Printer size

355x355x480mm

490x470x625mm

490x455x625mm

349x364x490mm

Extruder

Direct drive

"Sprite" direct drive extruder with dual gears

Sprite Direct Drive Dual Gear

1Sprite Direct Drive

Default print speed

150mm/s

150mm/s

180mm/s

Max print speed

max. ≤ 600 mm/s

max. ≤ 600 mm/s

Max 160mm/s

250mm/s

Acceleration

20,000 mm/s²

8000mm/s²

2500mm/s²

Max. nozzle temperature

300ºC

≤ 300°C

300ºC

≤ 260

℃

Max. heatbed temperature

100

℃

≤ 110°C

110ºC

≤ 100

℃

Dual Z-axis

Yes

Yes

Yes

Automatic levelling

Yes, CR Touch

Yes, CR Touch

Automatic with 16-point CR Touch

Yes, CR Touch

Interfaces

USB drive, WiFi

USB drive, WiFi

USB-C / SD

SD card

Layer Height

01.-0.35mm

01.-0.35mm

0.05 – 0.4 mm

01.-0.35mm

Motherboard

Silent motherboard, 32-bit

Silent motherboard, 32-bit

Silent motherboard, 32-bit

Silent motherboard, 32-bit

Screen

4.3-inch touchscreen

4.3-inch touchscreen

4.3-inch touch screen

3.2-inch color display with a rotary knob

Filament sensor

Yes

Yes

Yes

Power Loss Recovery

Yes

Yes

Yes

Build plate

Flexible Magnetic Steel Plate

Flexible build surface

PEI Spring Steel Plate

PC spring steel plate.

UI language

English, Spanish, German, French, Russian, Portuguese, Italian, Turkish, Japanese, Mandarin

English, Chinese,




Spanish, French,




German, Portuguese,




Italian, Turkish,




Russian

Chinese, English, German, Spanish, French, Italian, Portuguese, Russian, Turkish

English, French, Portuguese, Turkish, German, Spanish, Italian, Russian, Japanese, Mandarin

Operating systems

Windows, Mac OS, Linux

Rated capacity

100-120V~, 200-240V~, 50/60Hz, 350W

Slicing software

Creality Print, Cura, Simplify3D, PrusaSlicer

File format for slicing

STL, OBJ, 3MF, STEP
Customer Reviews
Write A Review
Ask A Question
Reviews (9)
Questions (0)