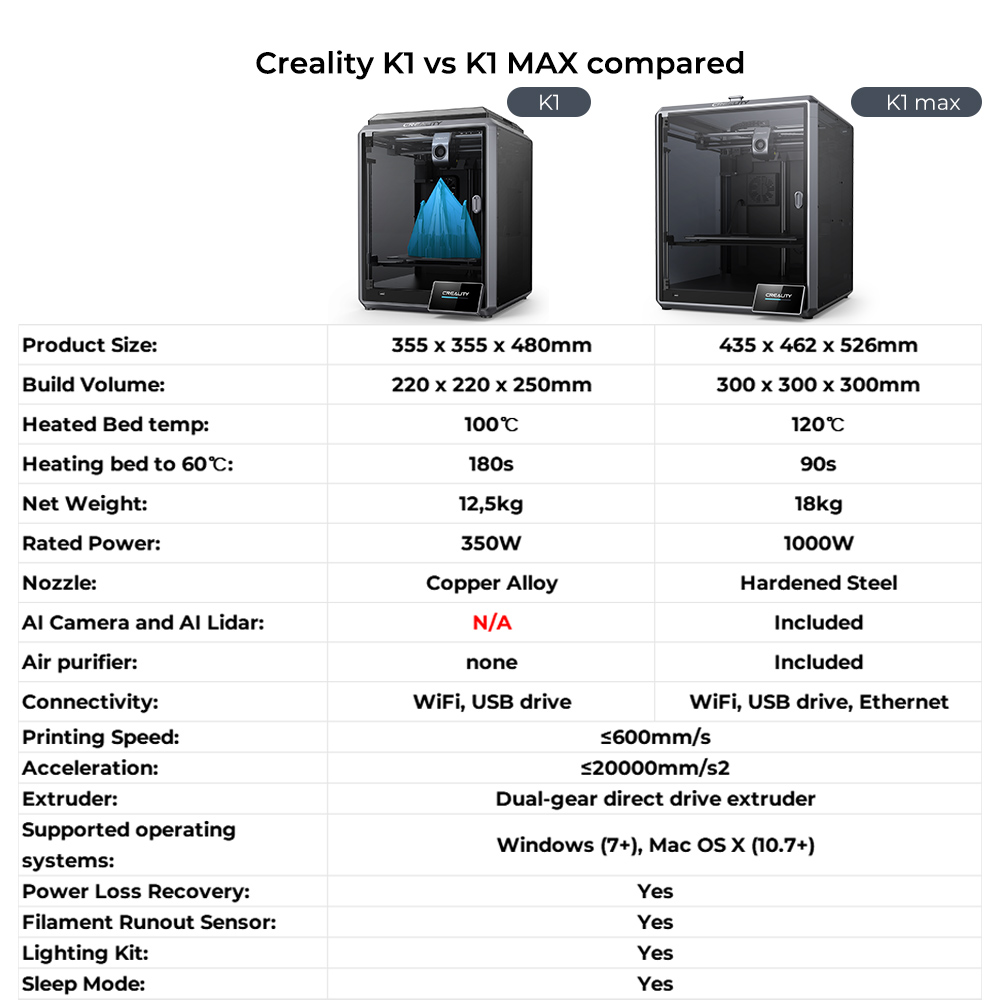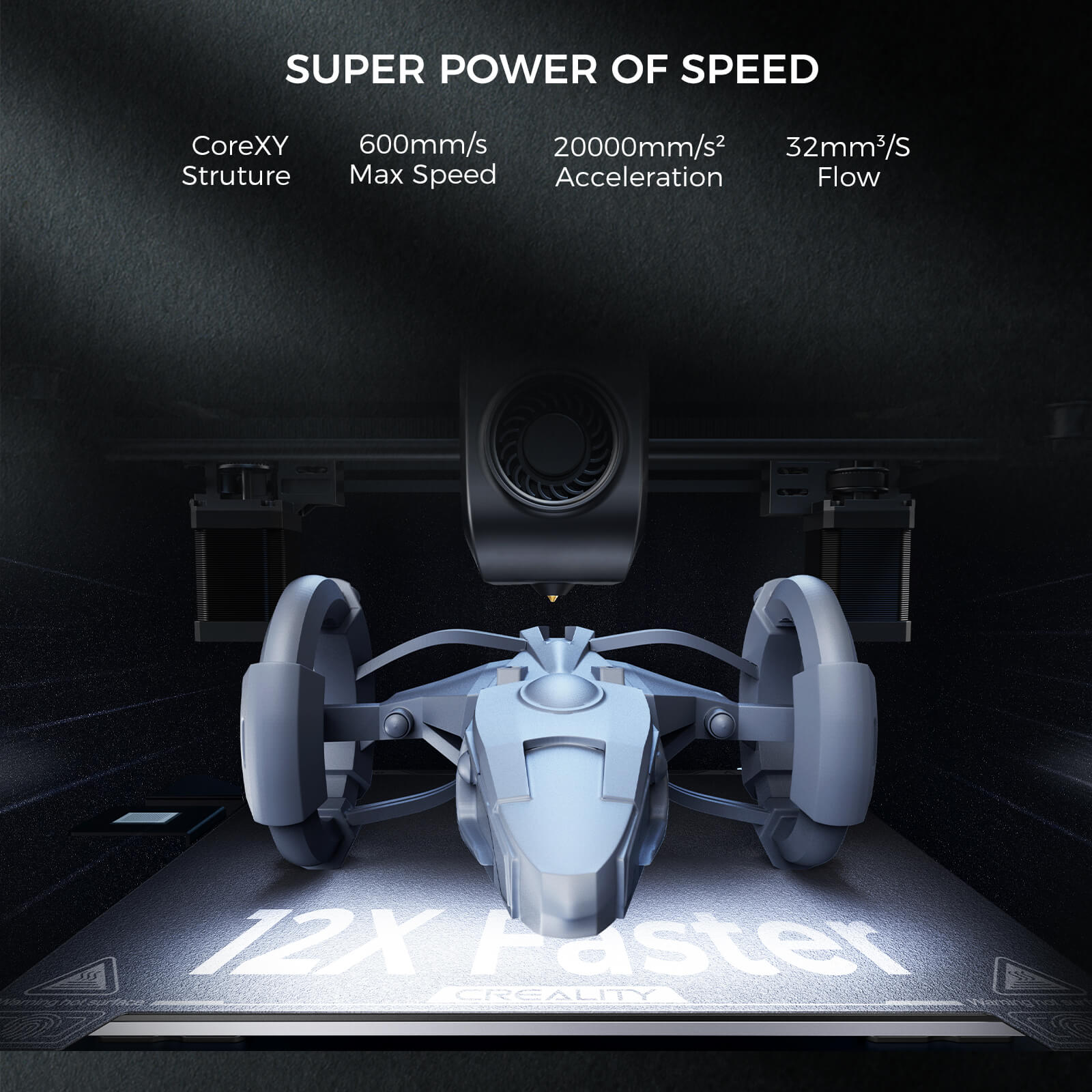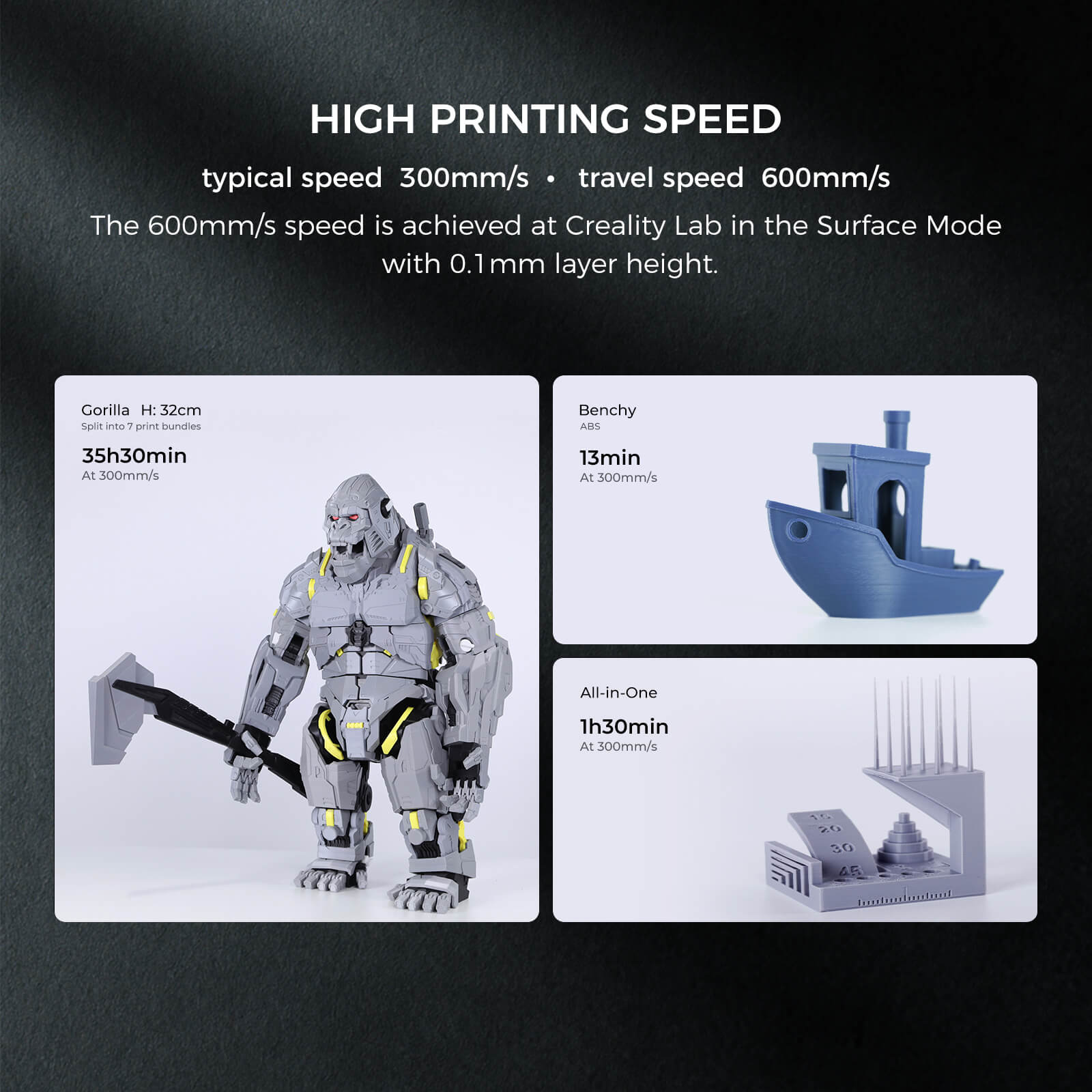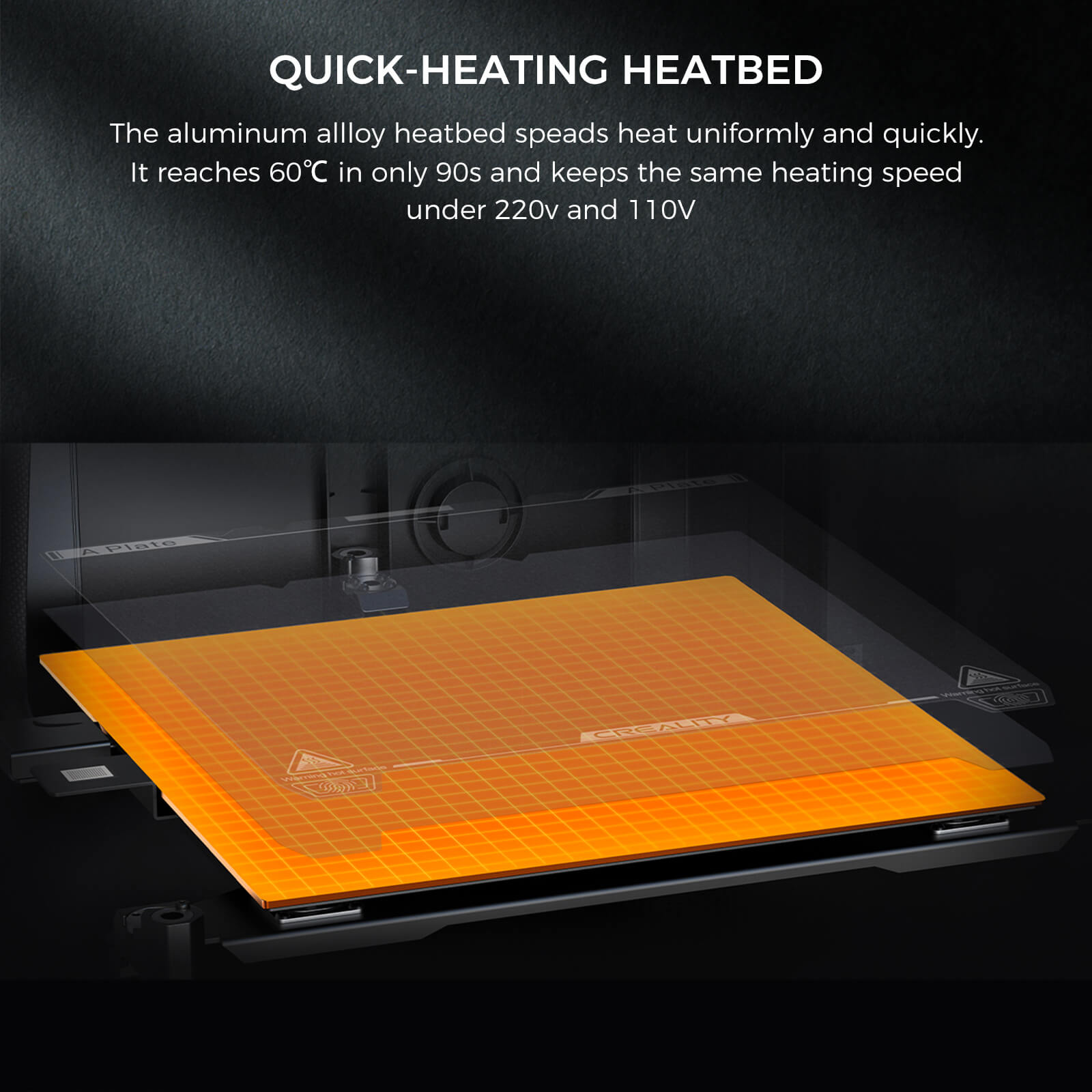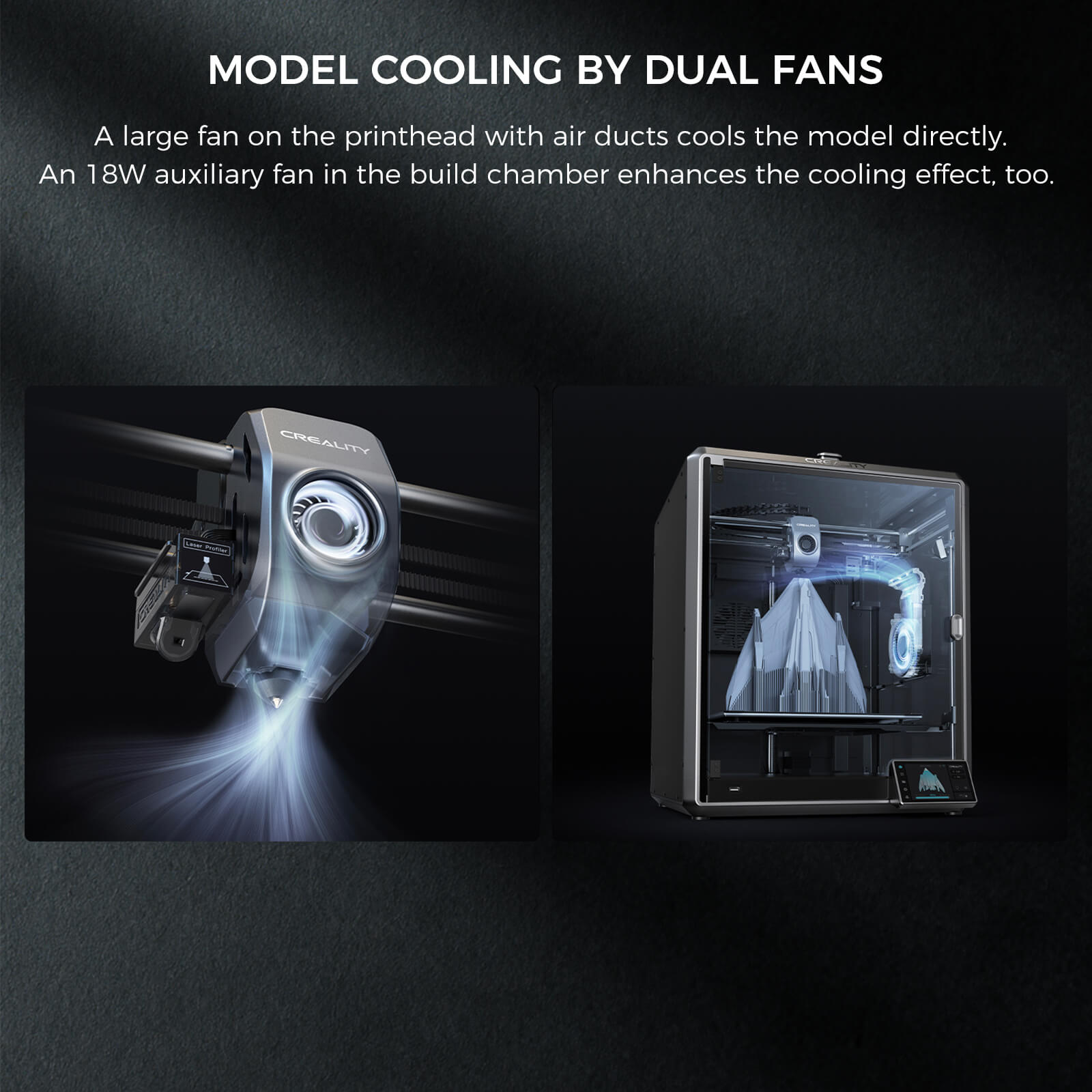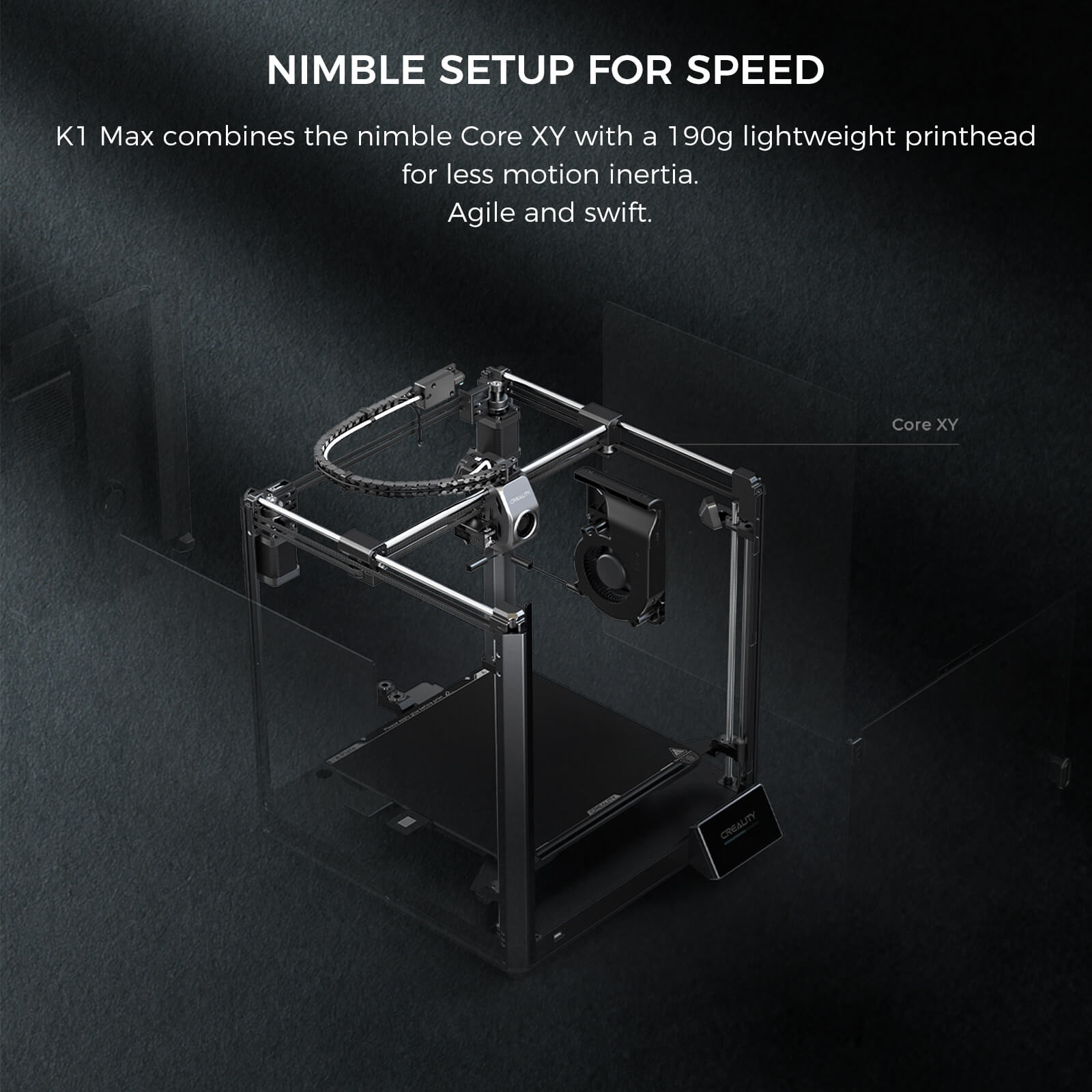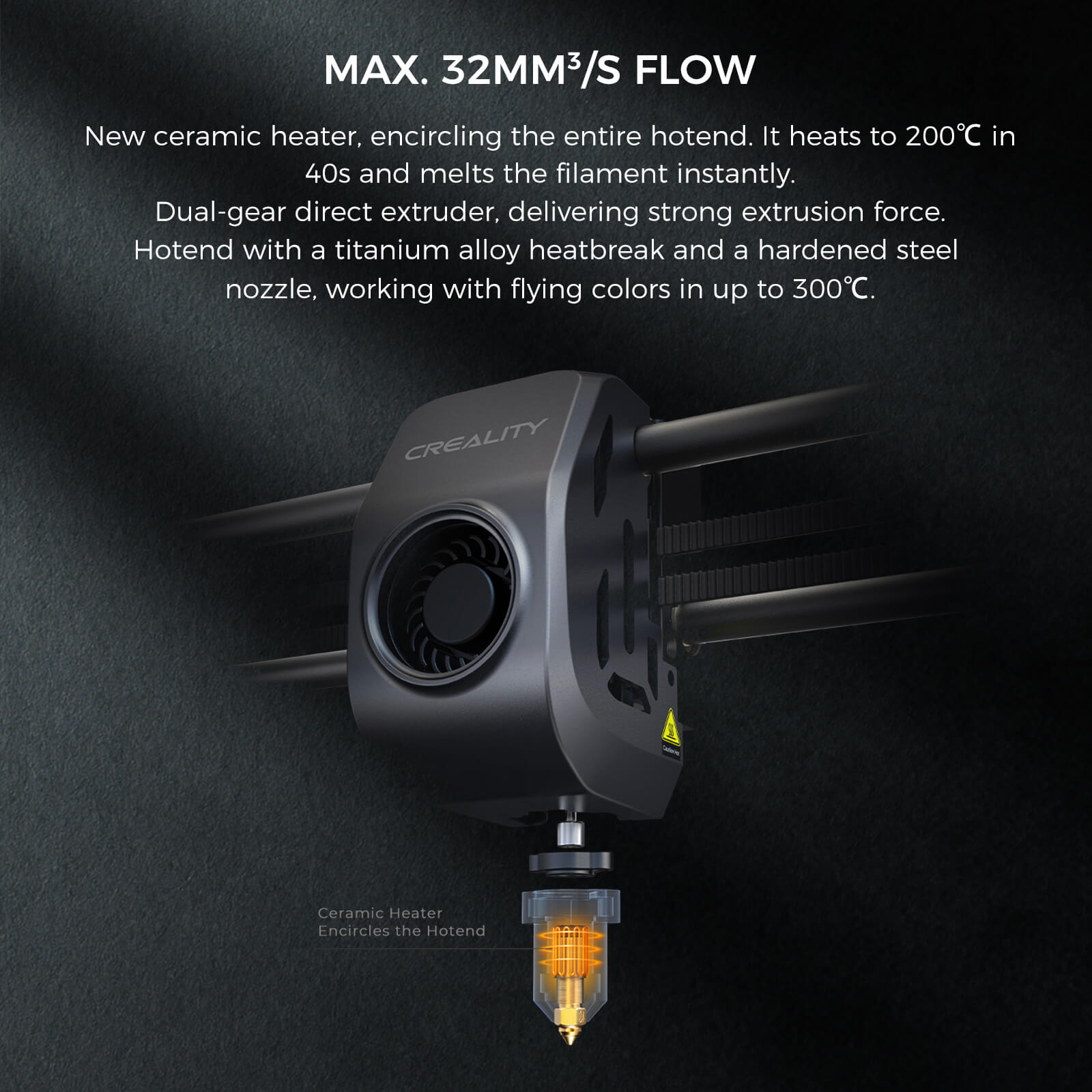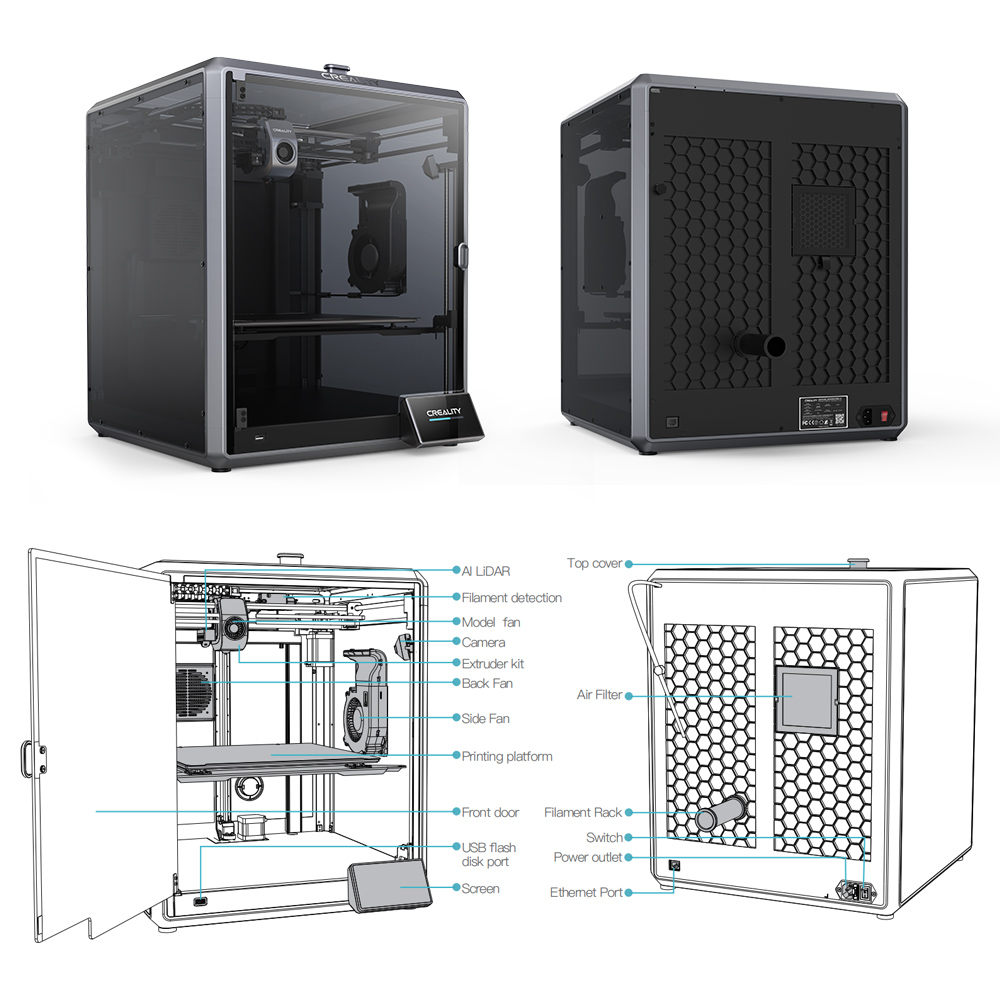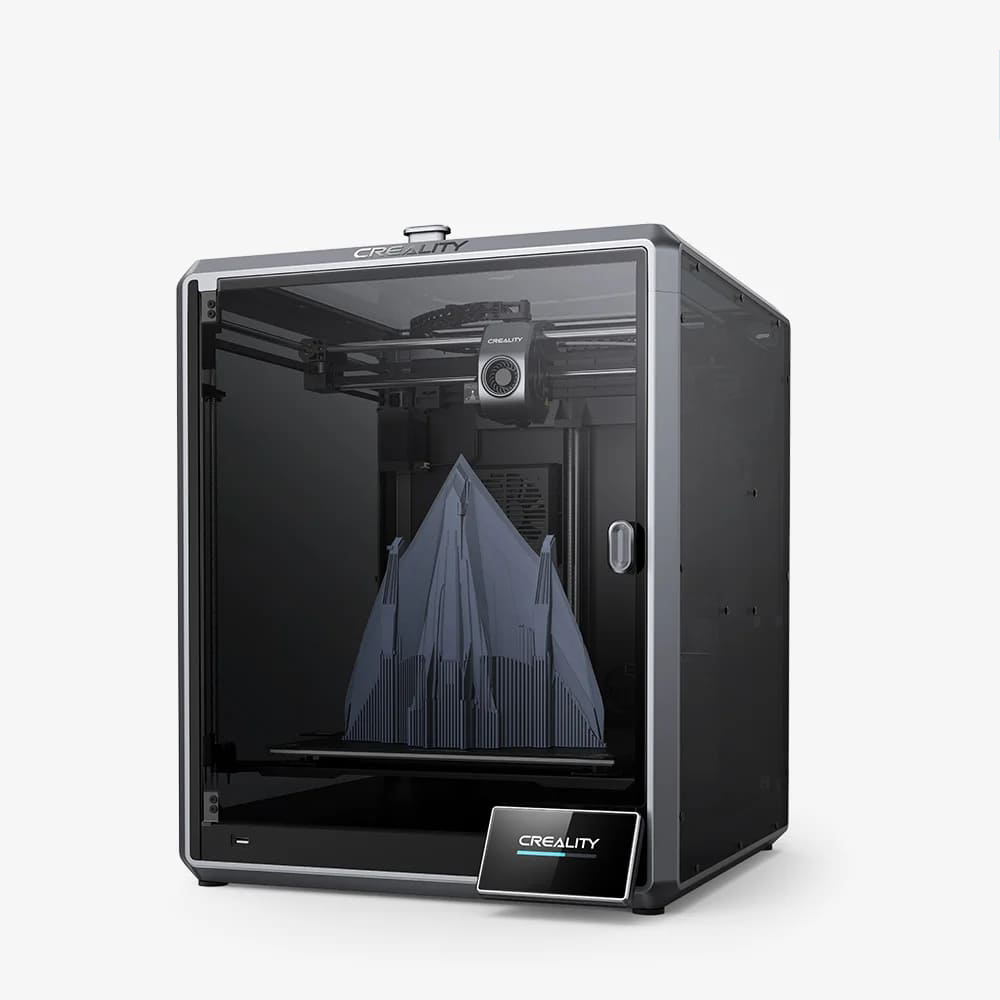 Creality K1 Max AI Speedy 3D Printer (300x300x300mm)
Model-2

Please select product attributes before purchasing~~
Ship to
It is expected to arrive within and will cost
$
USD
to ship
This item can't be shipped to this Country/Region
Bundles
${ meal.bage }
${ meal.title }
${ meal.skus }
${ sku.name }:
${ skuVal }
People who bought this item also bought
Creality K1 Max: Ultra-fast desktop machine with smart AI functionality
The Creality K1 Max is a desktop FDM 3D printer aimed at high-speed production with increased stability and reliability in mind. Despite its compact size, the device boasts a large build volume, high precision and consistency of printing, unprecedented build speed, durable structure, smart AI functions, and time-effective manufacturing capabilities. All these features lead to boosted performance alongside reduced expenses.
12X FASTER, DEFY LIMITATIONS - K1 Max: 600mm/s
K1 Max reaches 600mm/s* in only 0.03s based on 20000mm/s² acceleration. It can be as productive as several 3D printers together.
NIMBLE SETUP FOR SPEED
K1 Max combines the nimble Core XY with a 190g lightweight printhead for less motion inertia. Agile and swift.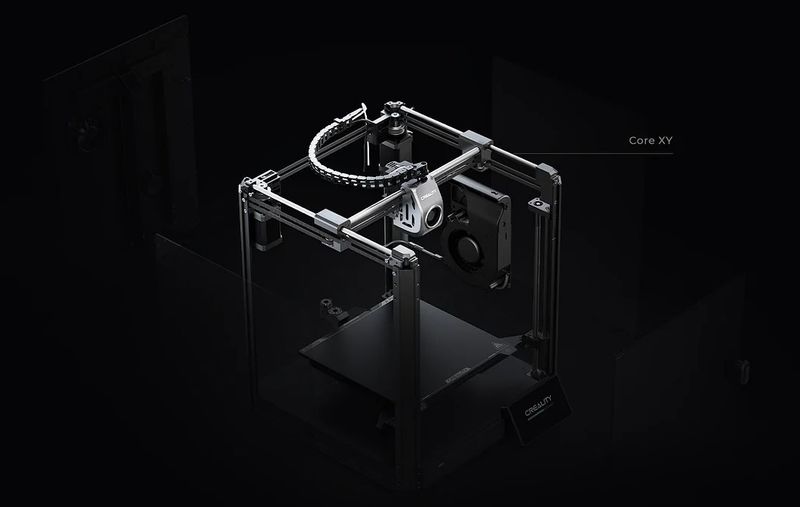 MAX. 32MM³/S FLOW
New ceramic heater, encircling the entire hot end. It heats to 200℃ in the 40s and melts the filament instantly. Dual-gear direct extruder, delivering 50N strong extrusion force. Hotend with a titanium alloy heartbreak and a copper alloy nozzle, working with flying colors in up to 300℃.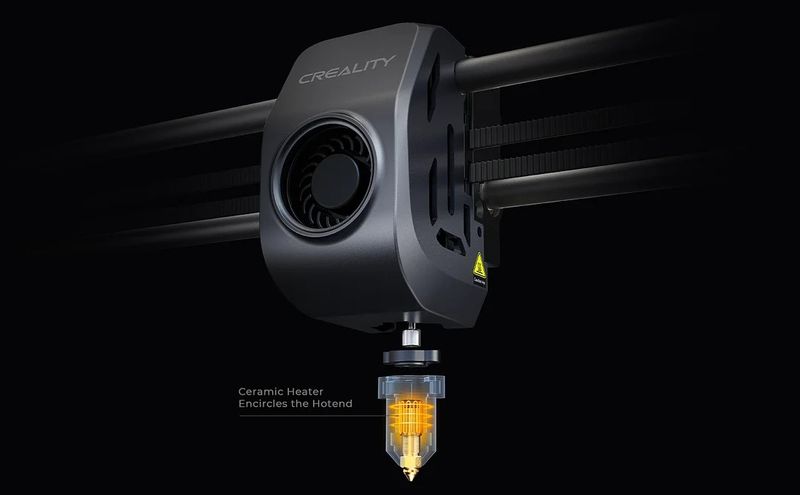 MODEL COOLING BY DUAL FANS
A large fan on the printhead with air ducts cools the model directly. An 18W auxiliary fan in the build chamber enhances the cooling effect, too.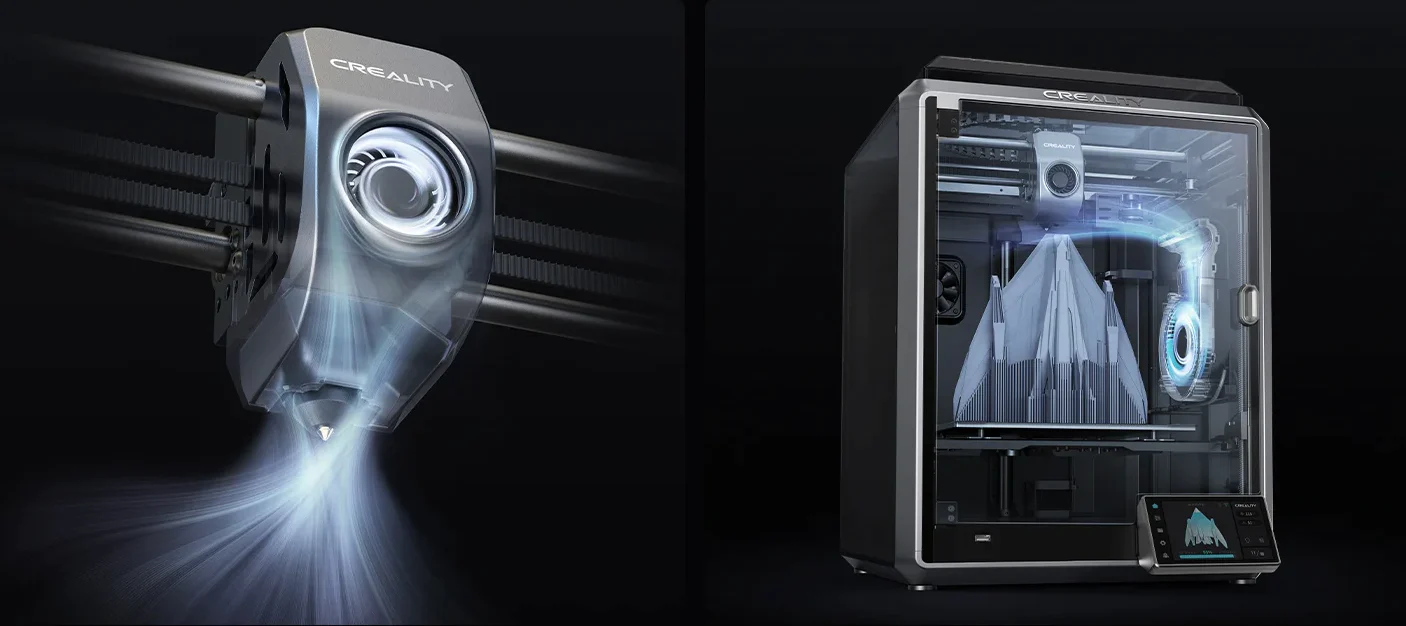 MAX CAPACITY, EFFICIENT USE OF SPACE
K1 Max boasts a 300x300x300mm large build volume, great for rapid prototyping or design verification. It also offers a high build volume to printer size ratio of 25.5%. K1 Max is the most size-efficient FDM 3D printer in its class.
AI LIDAR TAKES CARE OF THE FIRST LAYER
Still, worry about the first layer? Just leave it all to the AI LiDAR of K1 Max. The 1 μm resolution LiDAR will scan the first layer on its own. It will pause printing and tell you immediately if something goes wrong.
K1 Max Upgrades:
1. Print Size:
The K1 offers a print size of 220x220x250mm, which is suitable for a wide range of projects. if you have specific requirements for larger prints, the K1 Max with its expanded print size of 300x300x300mm is an excellent choice.
2. Upgraded to Glass Top Cover:
One notable upgrade in the K1 Max is the replacement of the PC top cover with a glass top cover. It offers better visibility during the printing process, allowing you to monitor your prints with ease. Additionally, it improves heat distribution and ensures more consistent temperature control within the printer, resulting in improved print quality and reliability.
3. Internal Placement of Filament Runout Sensor
4. AI Laser Radar and Camera Included as Standard:
K1 Max comes equipped with AI laser radar and a built-in camera, providing advanced features and functionalities.
5. Carbon Filter Included:
It helps to minimize odors and reduce the release of volatile organic compounds (VOCs) during the printing process, ensuring a healthier and more pleasant working atmosphere.
6. Ethernet Connectivity Supported:
K1 Max features Ethernet connectivity, allowing you to connect the printer to your local network via a network cable.
7. Upgraded hardened steel nozzles:
It allows you to print with various reinforced and engineering materials over an extended period. These upgraded nozzles ensure consistent and reliable extrusion, even with abrasive filaments, expanding the range of materials you can work with and unlocking new possibilities for your projects.
8. Power Supply and Bed Heating:
The K1 utilizes a toggle switch power supply and a DC heated bed, providing reliable and stable power to the printer.
K1 Max features a wide-voltage power supply and an 800W AC heated bed. The wide-voltage power supply ensures compatibility with different power systems, making the printer suitable for use in various regions. The 800W AC heated bed offers rapid and efficient heating, reducing the waiting time before printing and enabling faster project completion.

| | | |
| --- | --- | --- |
| | K1 | K1 Max |
| Product Dimensions | 355*355*480mm | 435*462*526mm |
| Package Dimensions | 415*415*550mm | 508*508*608mm |
| Gross Weight | 16Kg | 23kg |
| Net Weight | 12.5kg | 18kg |
| Input | 100-120V~, 200-240V~, 50/60Hz | 100-240V~, 50/60Hz |
| Output | 24V DC | 24V DC |
| Rated Power | 350W | 1000W |
| Display Screen | 4.3″ Color Touch Screen | 4.3″ Color Touch Screen |
| Printing Technology | FDM | FDM |
| Build Volume | 220×220×250mm | 300×300×300mm |
| Layer Height | 0.1-0.35mm | 0.1-0.35mm |
| Printing Accuracy | 100±0.1mm | 100±0.1mm |
| Filament Diameter | 1.75mm | 1.75mm |
| High-speed Filaments | ABS, Hyper PLA | ABS, Hyper PLA |
| Regular Filaments | PLA, PETG, PET | PLA, PETG, PET |
| Flexible Filament | TPU | TPU |
| High-strength Filaments | PA, ABS, ASA, PC | PA, ABS, ASA, PC |
| Wear-resistant Filaments | PLA-CF, PA-CF, PET-CF | PLA-CF, PA-CF, PET-CF |
| Typical Speed | 300mm/s, 12000mm/s² | 300mm/s, 12000mm/s² |
| Max Speed | 600mm/s | 600mm/s |
| Max Acceleration | 20000mm/s² | 20000mm/s² |
| Count | 1 | 1 |
| Extruder | Dual-gear Direct Drive Extruder | Dual-gear Direct Drive Extruder |
| Max Hotend Temp | 300℃ | 300℃ |
| Hotend Heating | Heating to 300℃ within 70s | Heating to 300℃ within 70s |
| Heat break | Titanium Alloy | Titanium Alloy |
| Nozzle | Copper Alloy | Hardened Steel |
| Standard Nozzle Diameter | 0.4mm | 0.4mm |
| Optional Nozzle Diameter | 0.6/0.8mm | 0.6/0.8mm |
| Type | Enclosed | Enclosed |
| XY Structure | CoreXY | CoreXY |
| Frame | Unibody Die-cast Aluminum Alloy Frame | Unibody Die-cast Aluminum Alloy Frame |
| Auxiliary Cooling Fan | Yes | Yes |
| Build Surface | Flexible Build Plate | Flexible Build Plate |
| Max Heatbed Temp | 100℃ | 120℃ |
| Heatbed Heating | Heating to 100℃ within 6min | Heating to 100℃ within 3min |
| Filament Runout Sensor | Yes | Yes |
| Power Loss Recovery | Yes | Yes |
| File Transfer | WiFi, USB Drive | WiFi, Ethernet, USB Drive |
| Lighting Kit | Yes | Yes |
| Remote Control | Yes | Yes |
| Input Shaping | Yes | Yes |
| Air Purifier | / | Yes |
| Sleep Mode | Yes | |
| Self-test | Yes | |
| Error Notification | Yes | |
| Log Management | Yes | |
| Real-time Monitoring | Optional | Yes |
| Time-lapse Filming | Optional | Yes |
| Failure Detection | Optional | Yes |
| Foreign Object Detection | Optional | Yes |
| Motion Advance | Optional | Yes |
| First Layer Inspection | | |
| Printable File Format | G-code | G-code |
| Slicing Software | Creality Print; Compatible with Cura, Simplify3D, PrusaSlicer | Creality Print; Compatible with Cura, Simplify3D, PrusaSlicer |
| Supported OS | Windows, MacOS | Windows, MacOS |
| APP | Creality Cloud | Creality Cloud |
Customer Reviews
Write A Review
Ask A Question
Reviews (0)
Questions (4)