Product Description
Creality HP Series PLA Filament Features: 
High Purity Raw Material

-Imported High-Quality Material;
Environmentally friendly: Non-toxic and pollution-free, High Degradable
Multiple Colors and Matte 3D Printing Styles:

High Performance.
Product Parameter:
1.75 mm in diameter, PLA filament, 1 Kg (2.2 lbs) net weight.
High-quality PLA filament for your 3D printer. Smooth surfaces ensure outstanding printing results.
Compatible with any 3D printer that uses 1.75mm diameter filament.
Recommended Extrusion/Nozzle Temperature 180°C - 215°C.
Dimensional Tolerance: +/- 0.02mm, provide highly precise & clog free printing experience.
Color:  Rose Red / Blue / White / Black / Grey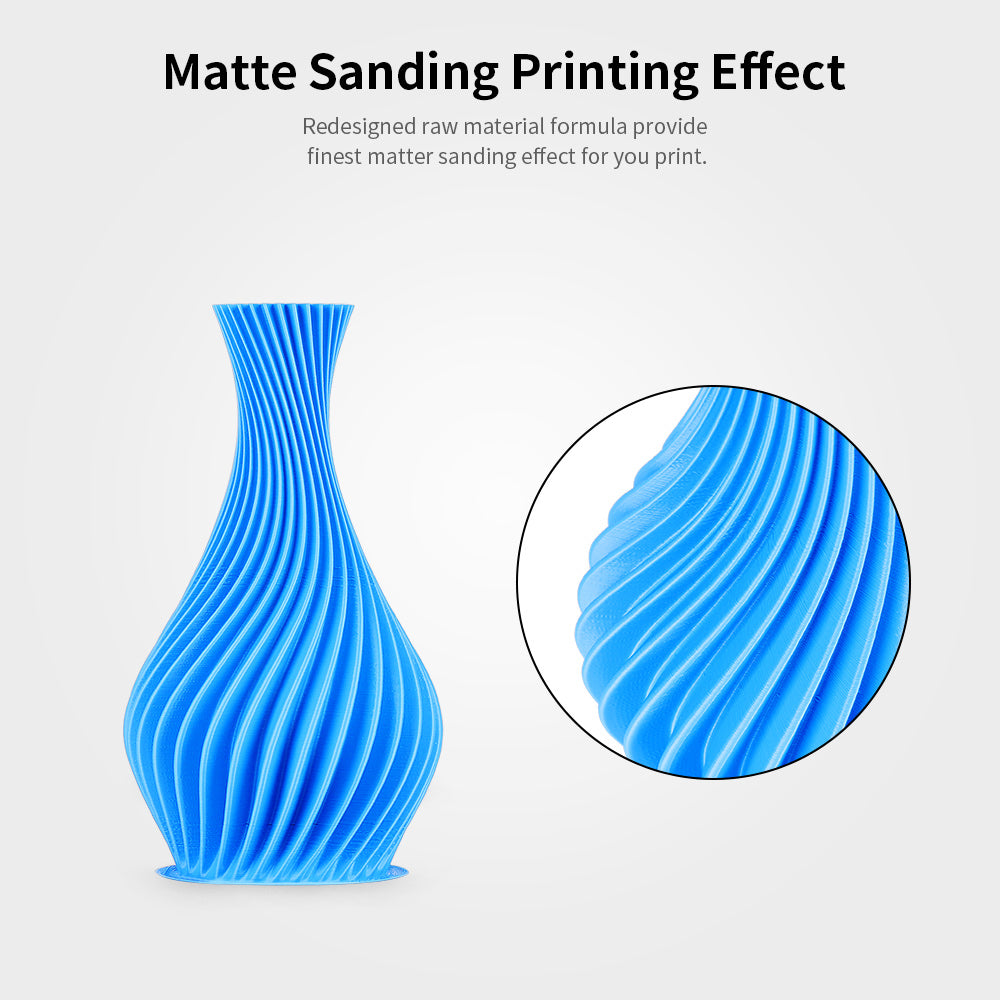 Product Reviews and Print Test: 
Creality HP PLA Review
Wofür das HP wirklich stehen soll (HP = High Performance?) weiss ich leider nicht, Creality nennt es teilweise High Quality PLA, aber das wäre ja ein Q und kein P. Ich würde sagen, es steht für "High Pigment" = hochpigmentiert, weil das HP Filament ist sowas von opak – blickdicht, dichter geht es nicht mehr. Nicht nur das, es ist auch wesentlich matter als normales PLA.   Read More
Filament review: Creality HP-PLA 3D printer filament - Creality stepping up their filament game?
Creality does not only manufacture 3D printers, they have also sold and produce filament. With both of my CR-6 printers, I got a roll of white Creality filament. Although this filament hasn't been successful for everyone, I liked it very much. Creality has asked me to review a new line of filament they're bringing to the market: Creality HP-PLA 3D printer filament. Is this filament any good?   Read More
Great filament
I print alot of tabletop scenery and influence it on my Instagram (under the hotend). I decided to give the new hp filament a go and it's now become my go to filament it's that good if you want a Hassel free amazing quality filament then this is the 1.
Great Product
Arrived quickly. Easy assembly and good quality.
Time reception
Thanks I received the ordered in a timely manner. However there was a shortage of some other parts that I had ordered. After informing Creality a week later I received the missing items as well after a quick verification process.
best white pla color ever
I've had the pleasure of using the white pla and I have to say it had no stringing, no odor, and printed as smooth as silk.