Creality Official store and Octo reach a cooperation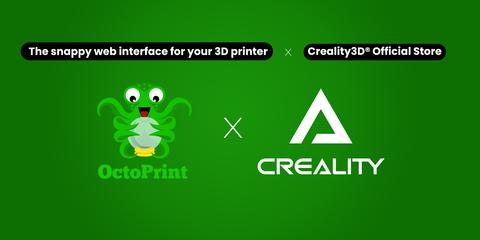 OctoPrint is an open-source 3D print controller application. It was created by Gina Häußgewho initially developed the software to support her first 3D printer in 2012. OctoPrint was forked from Cura and is available under the same AGPL license. Development is hosted on GitHub.OctoPrint development was financially supported by the Spanish smartphone manufacturer BQ beginning in August 2014. When BQ discontinued support in April 2016, Häußge turned to Patreon.As of February 2019, crowdfunding through Patreon was responsible for providing over $6000 per month from over 1500 backers to Häußge.

OctoPrint provides a web interface for controlling 3D printers, allowing the user to start a print job by sending G-code to a 3D printer connected via USB. OctoPrint monitors the status of the print job, as well as the printer itself, primarily the temperature of the print head (hot end) and the temperature of the bed, if the bed on the printer is heated. OctoPrint can also show the output of a connected webcam in order to monitor the state of the print and can visualize the G-code in sync with the print job, or asynchronously.