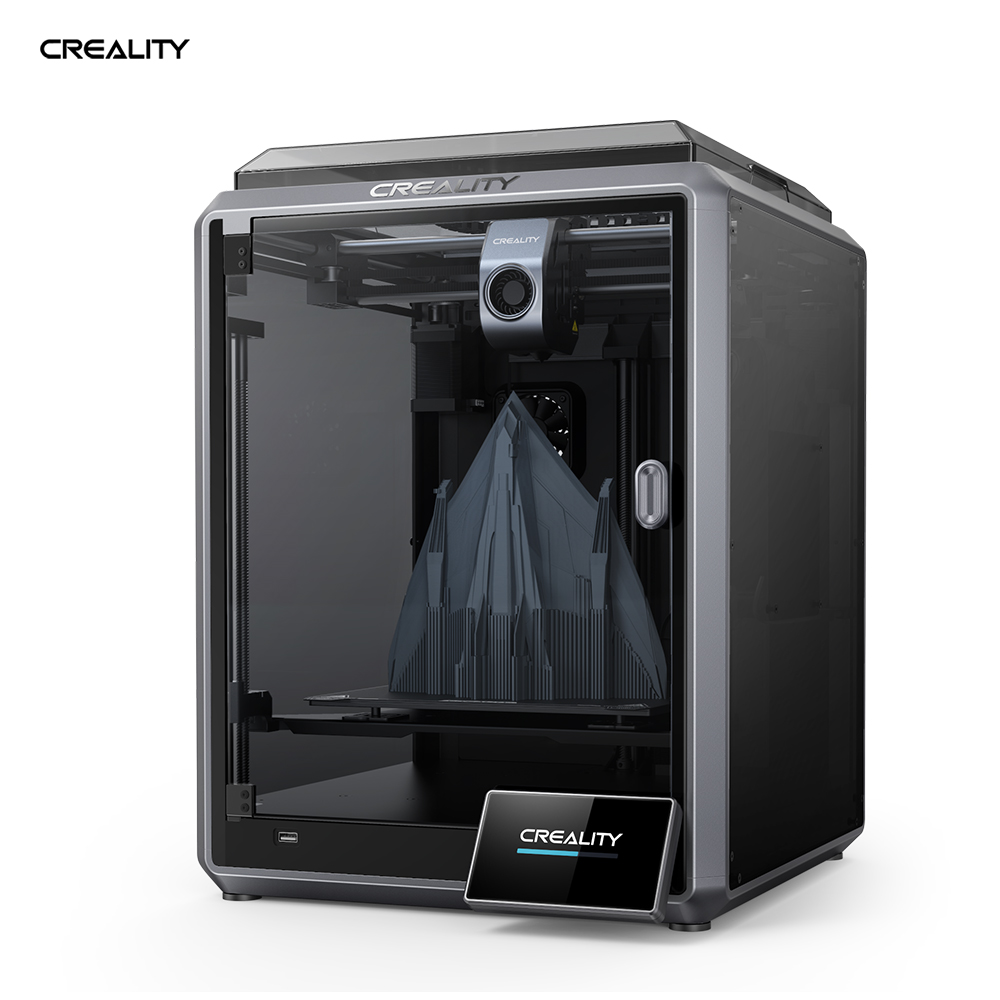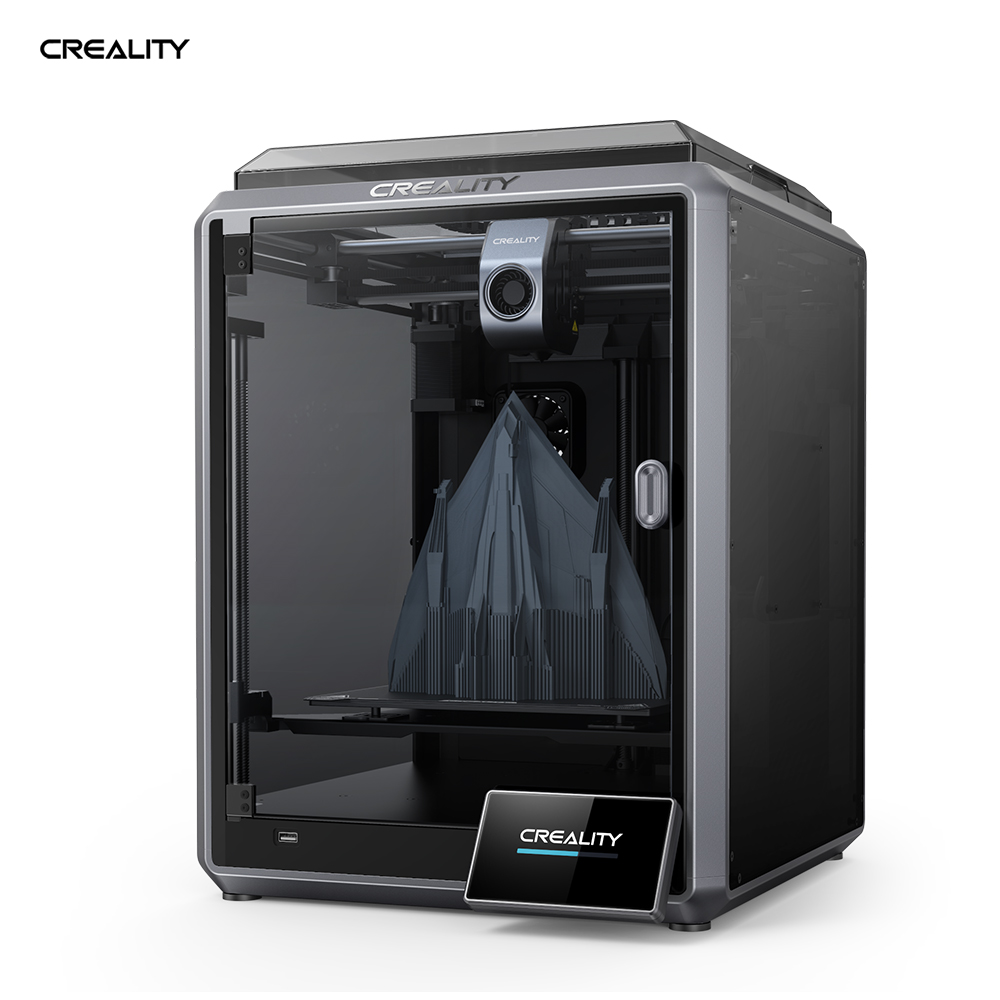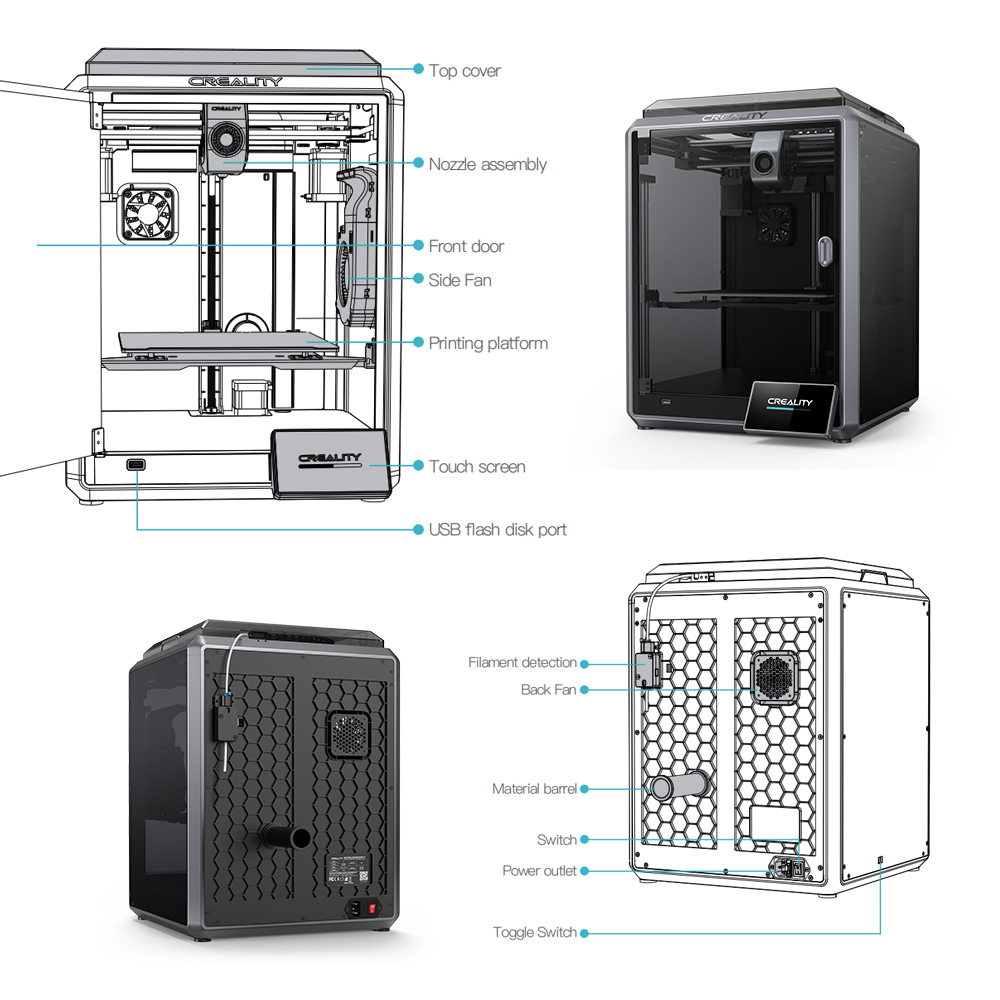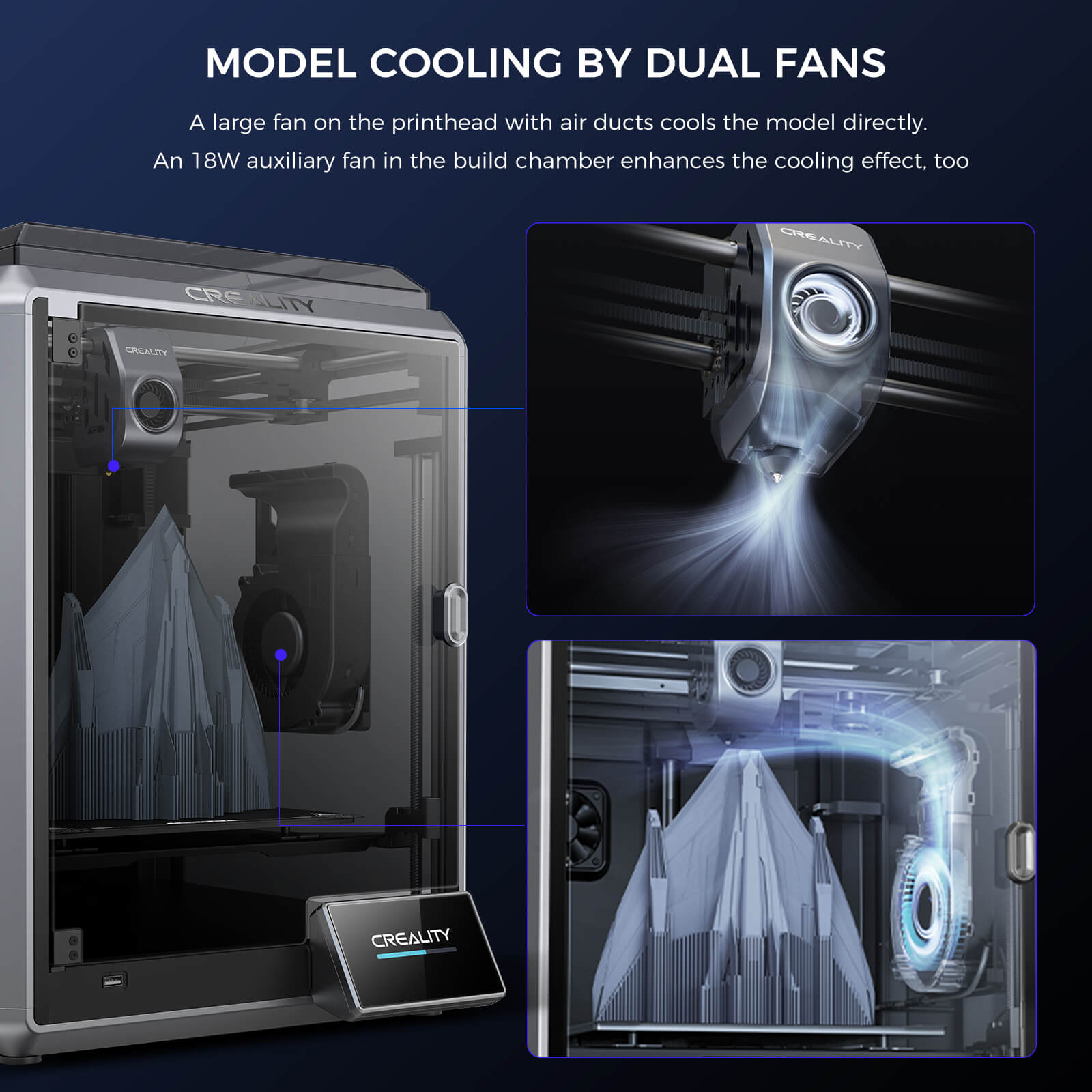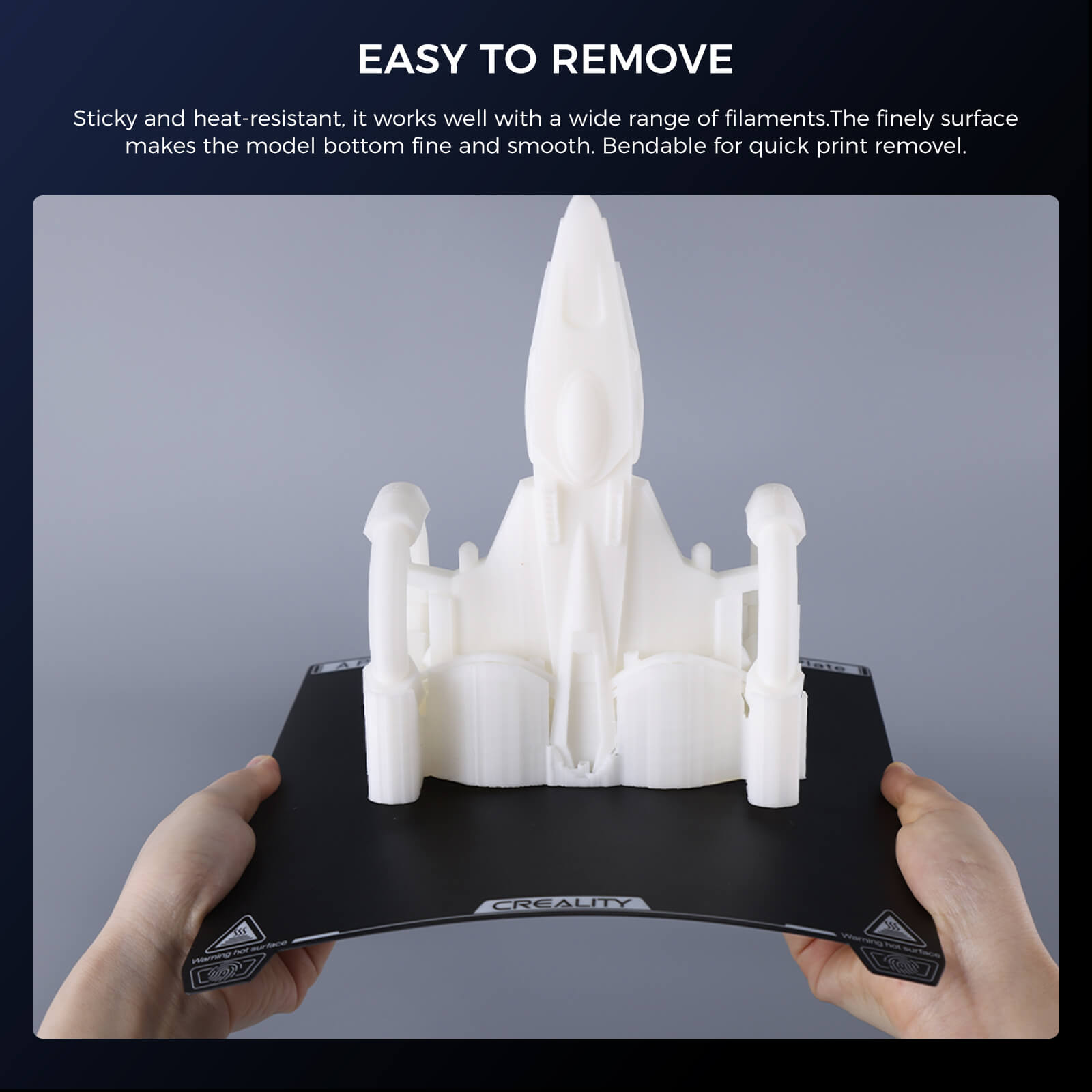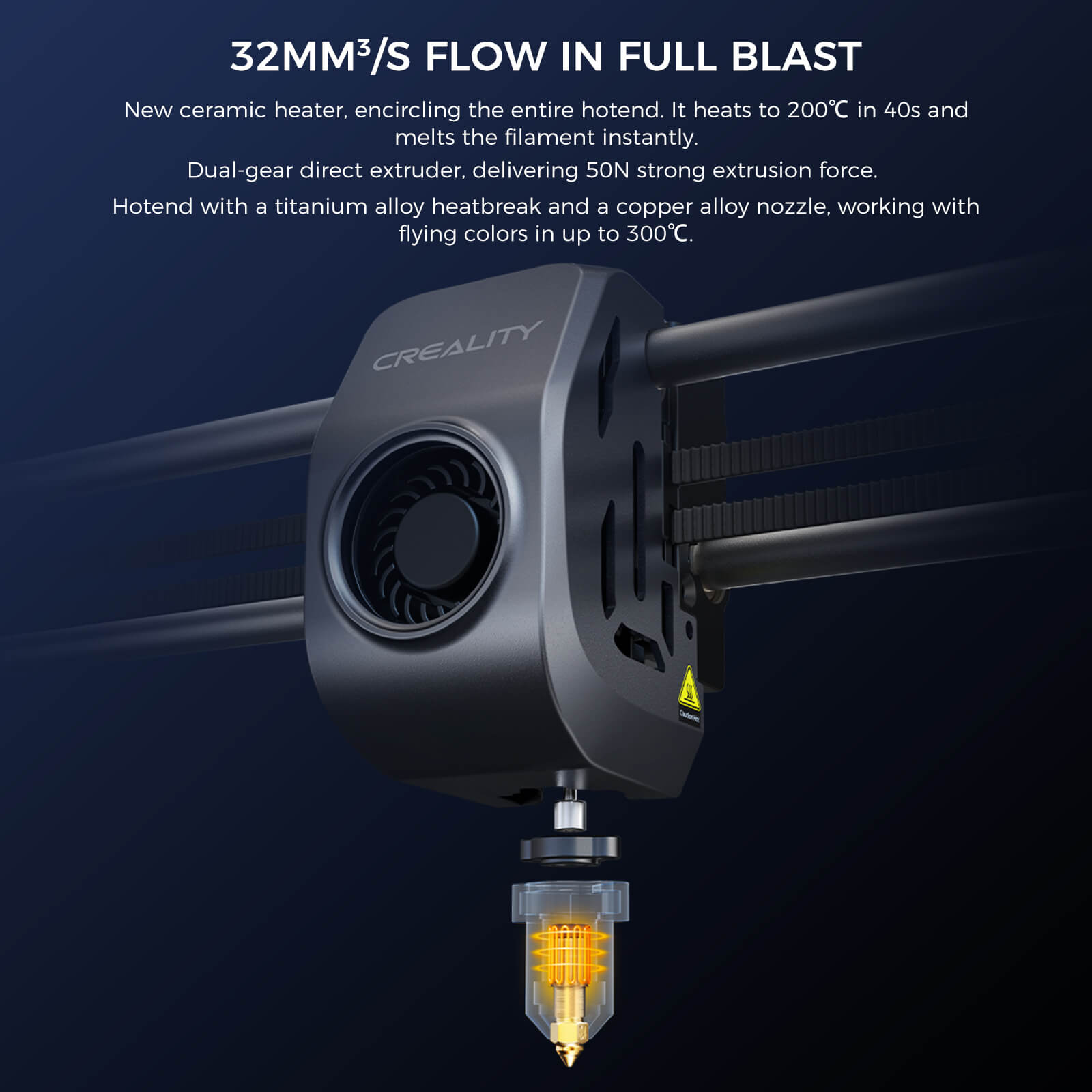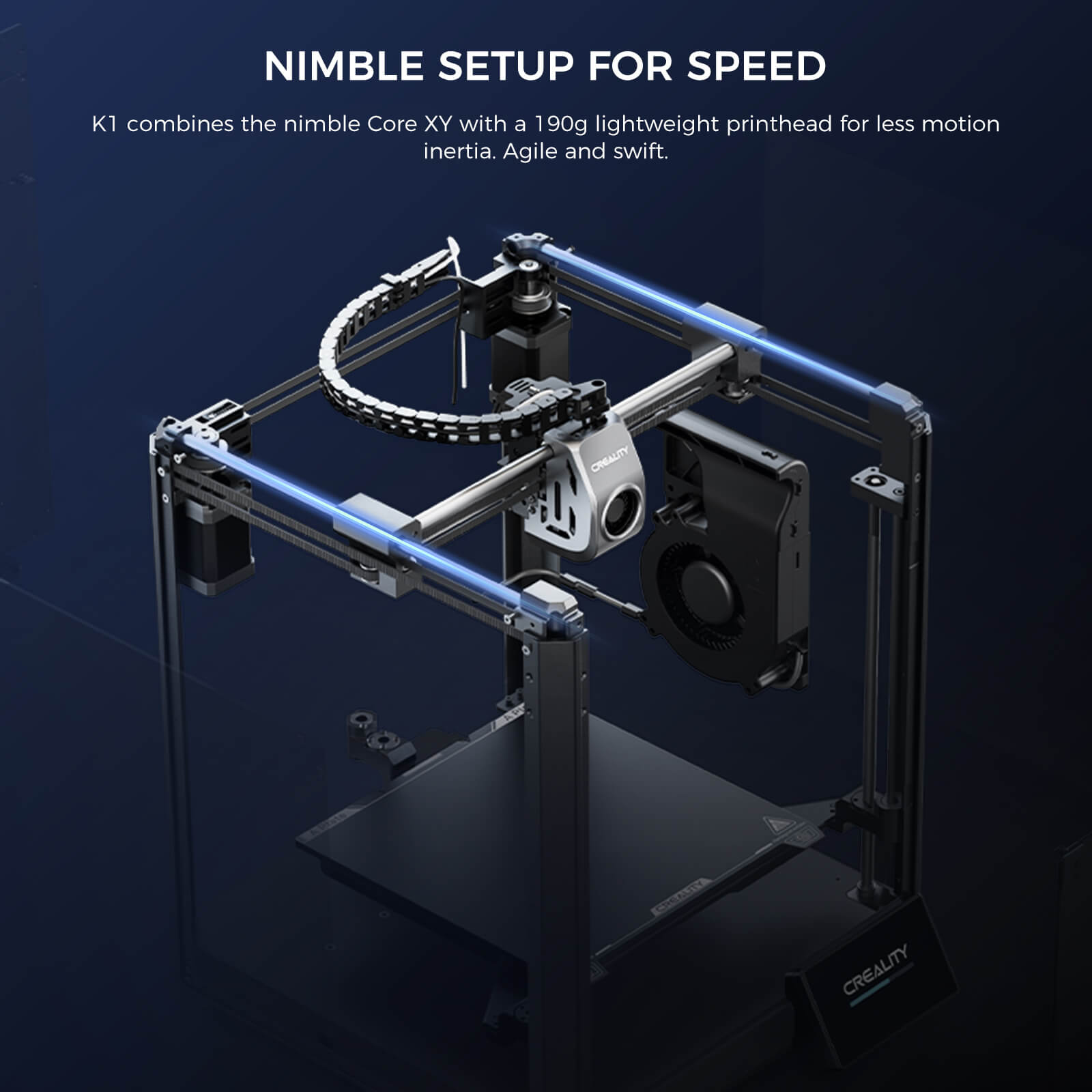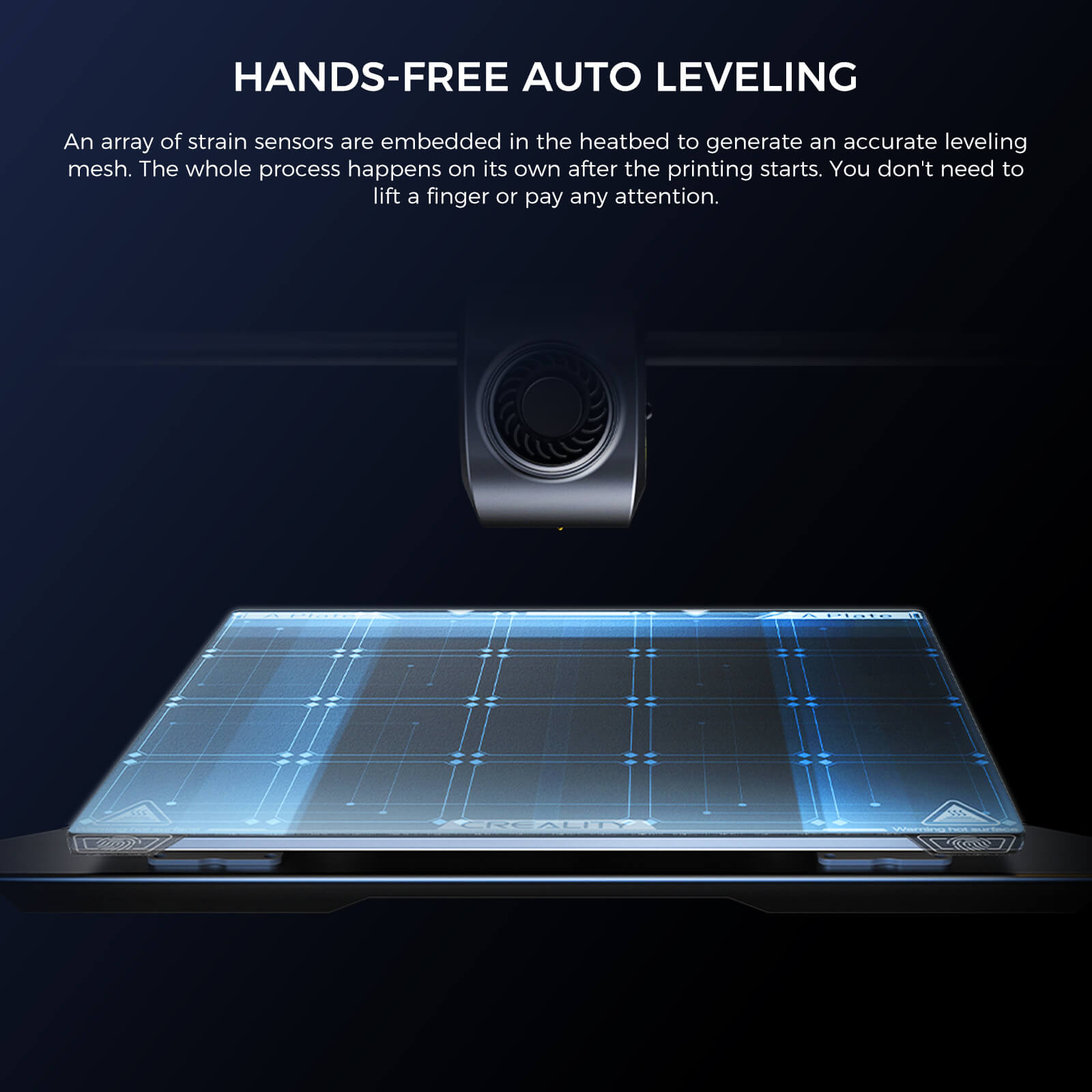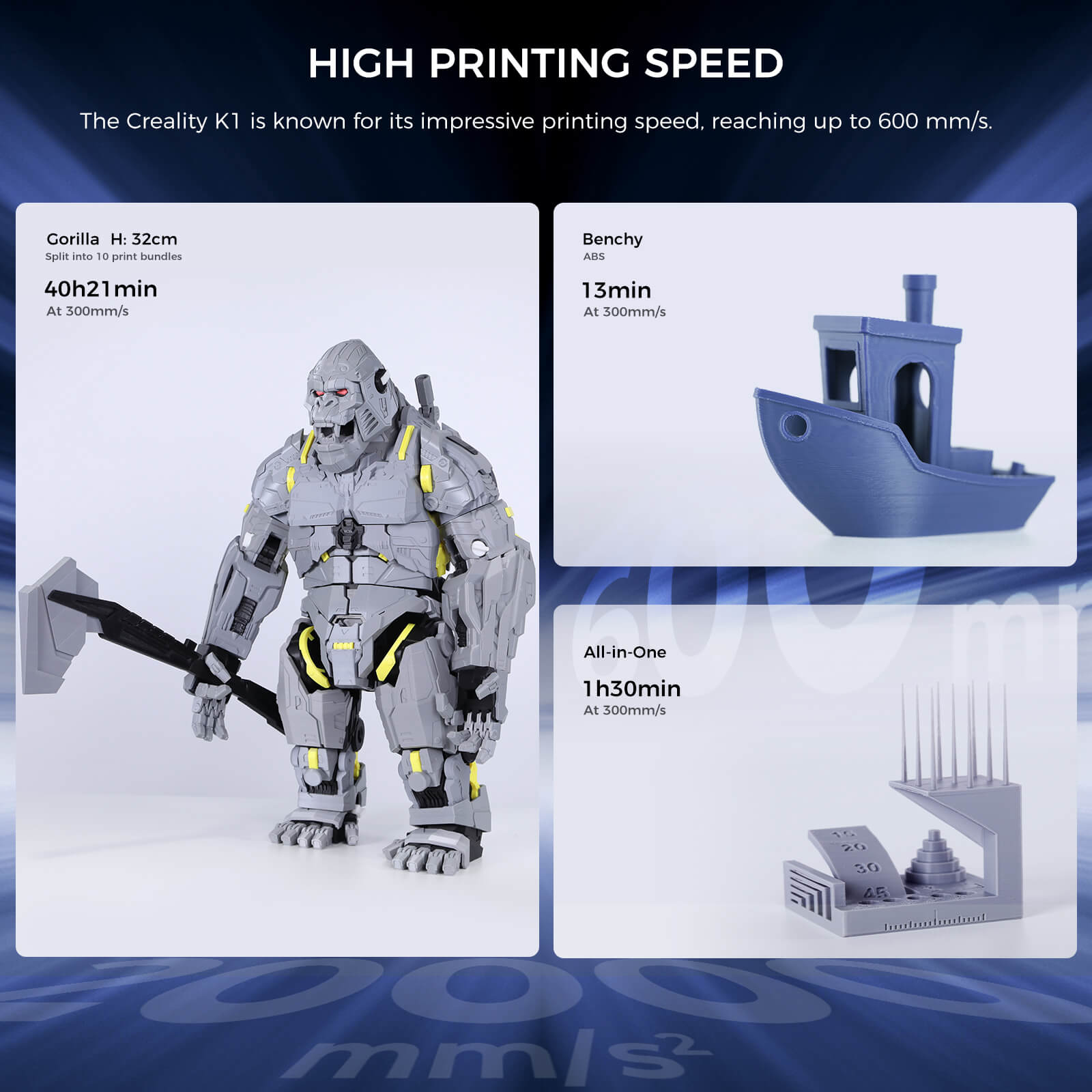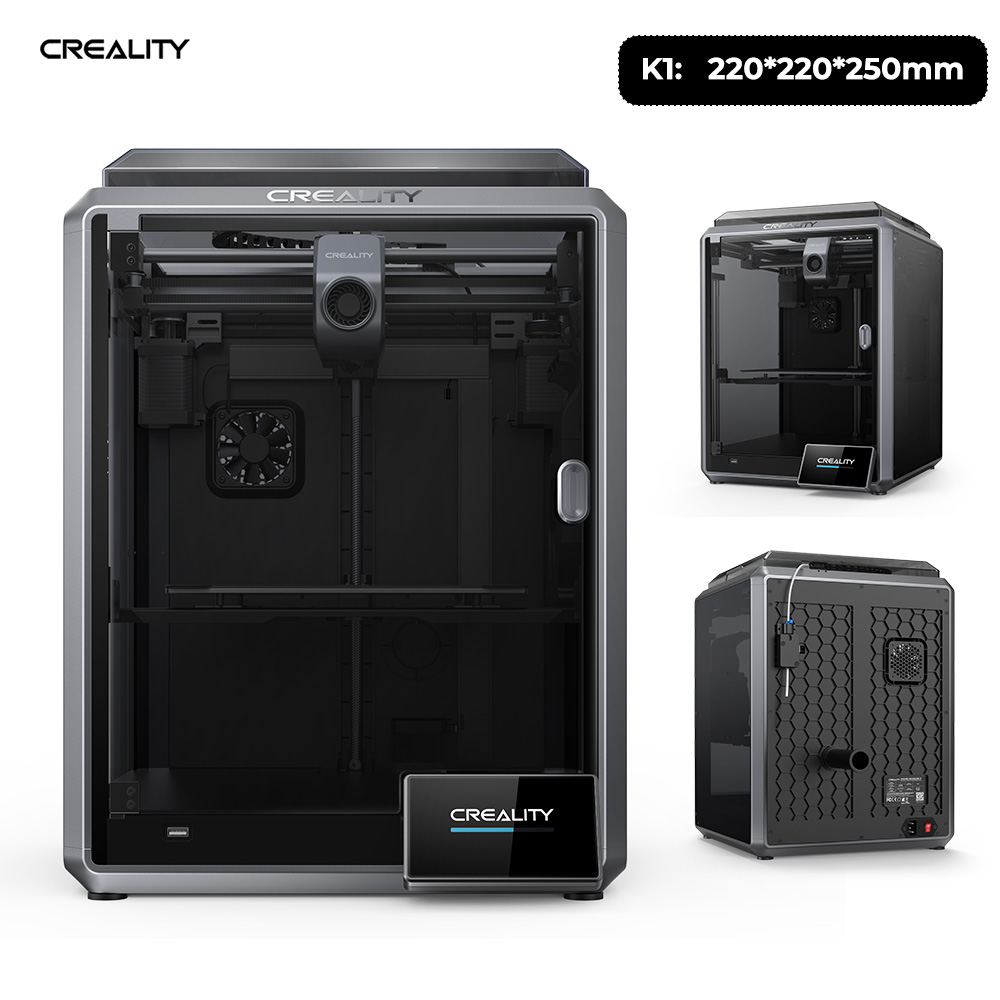 Creality K1 High Speed 3D Printer, 600mm/s Max Speed
Model-2

Please select product attributes before purchasing~~
Ship to
It is expected to arrive within and will cost
$
USD
to ship
This item can't be shipped to this Country/Region
Bundles
${ meal.bage }
${ meal.title }
${ meal.skus }
${ sku.name }:
${ skuVal }
People who bought this item also bought

Why the Creality K1 Series:
Fast, and faster! Max 600mm/s!
► With an acceleration of 20,000 mm/s², the Creality K1 ramps up to 600 mm/s in just 0.03 seconds, making it up to 12 times faster than other FDM printers on the market.
► Combines the nimble Core XY with a 190g lightweight printhead for less motion inertia. Agile and swift.
Fast Heating Up and supports a variety of filament materials
► The K1 boasts a 32mm³/s max flow hot-end, equipped with a ceramic heater for rapid heating and a dual-gear direct extruder delivering 50N of extrusion force.
► Titanium alloy heat break and copper alloy nozzles: It excels at temperatures up to 300℃ Supports a wide variety of filament materials and works great.
Easy Use and New User-Friendly Always!
► Fully Assembled: The printer shipped fully assembled. You just need to remove the packing foam and connect the touchscreen interface. This process shouldn't take more than 10 minutes.
► Automatic Calibration and Self-testing: The K1's embedded strain sensors generate an accurate leveling mesh, ensuring optimal print quality without the need for manual adjustments.
► Dual Cooling Fans: Both printers are equipped with dual cooling fans, one on the printhead with air ducts that cool the model directly, and the second auxiliary fan in the build chamber to enhance the cooling effect, allowing the printed model to harden before any stringing and warping can occur.
► Advanced Filament Sensor and Support Power Loss Recovery
► Flexible Build Plate and Quick-Heating Heatbed
Additional Features:
Simplified Slicing:
Take advantage of Creality Print 4.3, the latest slicer software designed specifically for the K1. With easy-to-use presets and streamlined slicing processes, achieve high-speed printing with variable line width and arc paths.
Smart Creality OS and Hardware:
Experience the power of Creality OS, featuring a user-friendly interface that seamlessly syncs data and commands across various devices and add-on modules. The dual-core 1.2GHz CPU ensures high-speed printing, while the 8G ROM provides ample storage for up to 400 model files.
WiFi Connectivity and Remote Control (Optional):
Connect the K1 to your network and enjoy the convenience of wireless printing. Control and monitor your prints remotely via Creality Print or Creality Cloud APP/WEB. Receive notifications on your phone or PC upon print completion or abnormalities. With the Creality K1, you can achieve lightning-fast printing speeds, exceptional performance, and seamless integration with advanced features. Let your creativity soar and explore new horizons in 3D printing
Q: What is the build volume of the Creality K1 3D Printer?
A: The Creality K1 offers a spacious build volume of 220 x 200 x 250mm, providing ample space for creating larger and more complex 3D-printed models. Additionally, the K1 Max model is expected to have an even larger build volume of 300 x 300 x 300mm, offering expanded possibilities for printing larger objects.
Q: How much faster is the K1 compared to a standard 3D printer?
A: The Creality K1 sets a new standard for speed in 3D printing. With print speeds of up to 600mm/s, it is an astounding 12 times faster than regular FDM 3D printers. This remarkable speed allows for rapid production and significantly reduces overall printing time, making the K1 a game-changer for time-sensitive projects.
Q: What materials is the Creality K1 compatible with?
A: The Creality K1 3D Printer offers exceptional versatility, as it is compatible with a wide variety of filaments to suit diverse applications and creative needs. Users can print with materials such as ABS, PLA, PETG, PET, TPU, PA (Nylon), ASA, PC (Polycarbonate), PLA-CF (Carbon Fiber Reinforced PLA), PA-CF (Carbon Fiber Reinforced PA), and PET-CF (Carbon Fiber Reinforced PET). This extensive range of material options allows for greater flexibility and innovation in 3D printing projects, enabling users to achieve the desired results with the Creality K1.
Q: Does the Creality K1 offer multi-material printing like the Bambu Lab Carbon X1 and AMS?
A: The Creality K1 does not offer multi-material printing like the Bambu Lab X1 Carbon with AMS (Automatic Material Switching) system. The K1 features a single extruder, which allows for printing with a wide variety of filaments, but it does not have the capability to print with multiple materials simultaneously in a single print job. For multi-material printing, you would need a printer with a dual or multi-extruder setup, such as the Bambu Lab X1 Carbon or other printers designed specifically for this purpose.
►Creality K1: Product Parameters
General

Brand: Creality




Type: 3D Printer




Model: K1




Color: Black

Specification

Printing Technology: FDM




Build Volume: 220*220*250mm




Printing Speed: ≤600mm/s




Acceleration: ≤20000mm/s2




Printing Accuracy: 100±0.1mm




Layer Height: 0.1-0.35mm




Extruder: Dual-gear direct drive extruder




Filament Diameter: 1.75mm




Nozzle Diameter: 0.4mm (compatible with 0.6/0.8mm)




Nozzle Temperature: ≤300 Celsius




Heatbed Temperature: ≤100 Celsius




Build Surface: Flexible build plate




Leveling Mode: auto-leveling




File Transfer: USB drive, WiFi




Display Screen: 4-3" color touchscreen




Al Camera: Optional




Al LiDAR: Optional




Power Loss Recovery: Yes




Filament Runout Sensor: Yes




Input Shaping: Yes




Lighting Kit: Yes




Sleep Mode: Yes




Rated Voltage: 200-240V, 50Hz




Rated Power: 350W




Supported Filaments: ABS, PLA, PETG, PET, TPU, PA, ABS, ASA, PC, PLA-CF, PA-CF, PET-CF




Printable File Format: G-Code




Slicing Software: Creality Print; compatible with Cura, Simplify3D, PrusaSlicer




File Formats for Slicing: STL, OBJ, AMF




UI Languages: English, Spanish, German, French, Russian, Portuguese, Italian, Turkish, Japanese, Chinese

Weight & Size

Product Weight: 12kg




Package Weight: 15kg




Product Size(L x W x H): 35.5*35.5*48cm




Package Size(L x W x H): 41.5*41.5*55cm

Package Contents

1 x 3D Printer




1 x User Manual
Product Manual: K1
V1.1.10 Firmware Download
Download
Customer Reviews
Write A Review
Ask A Question
Reviews (7)
Questions (4)