Product Description
Main Feature Of Ender-6 Core-XY 3D Printer
Creality New cubic Ender-6 3d printer with higher precision and quick printing speed(3X Speed) in Core -XY Structure. In terms of size, the Ender-6's 3d printer build volume of 250 x 250 x 400 mm puts it right between an Ender-5 Pro (220 x 220 x 300 mm) and the CR-10 series, which starts at 300 x 300 x 400 mm. This should suffice for the majority of your daily print jobs.
Elegant Appearance:Ender-6 with a new look integrated all-metal chamber body matched with a transparent acrylic open door and blue corner. Enclosed Performance but Not TOP LID;
Ultra Silent Printing: Ender-6 is custom-built with an ultra-silent Germany-imported TMC motion controller, enabling the printing process won't make any noise. TMC-2208 motherboard always ensures smooth movement in silence;
Large Printing Size: 250*250*400mm;
Stable Core -XY Structure: Ender-6 is easier to make the printing more stable and more precise with core-XY mechanical structure and quality print nozzle;
3X Printing Speed: Works quite well to achieve print speed up to 150mm/s, delivering the results faster.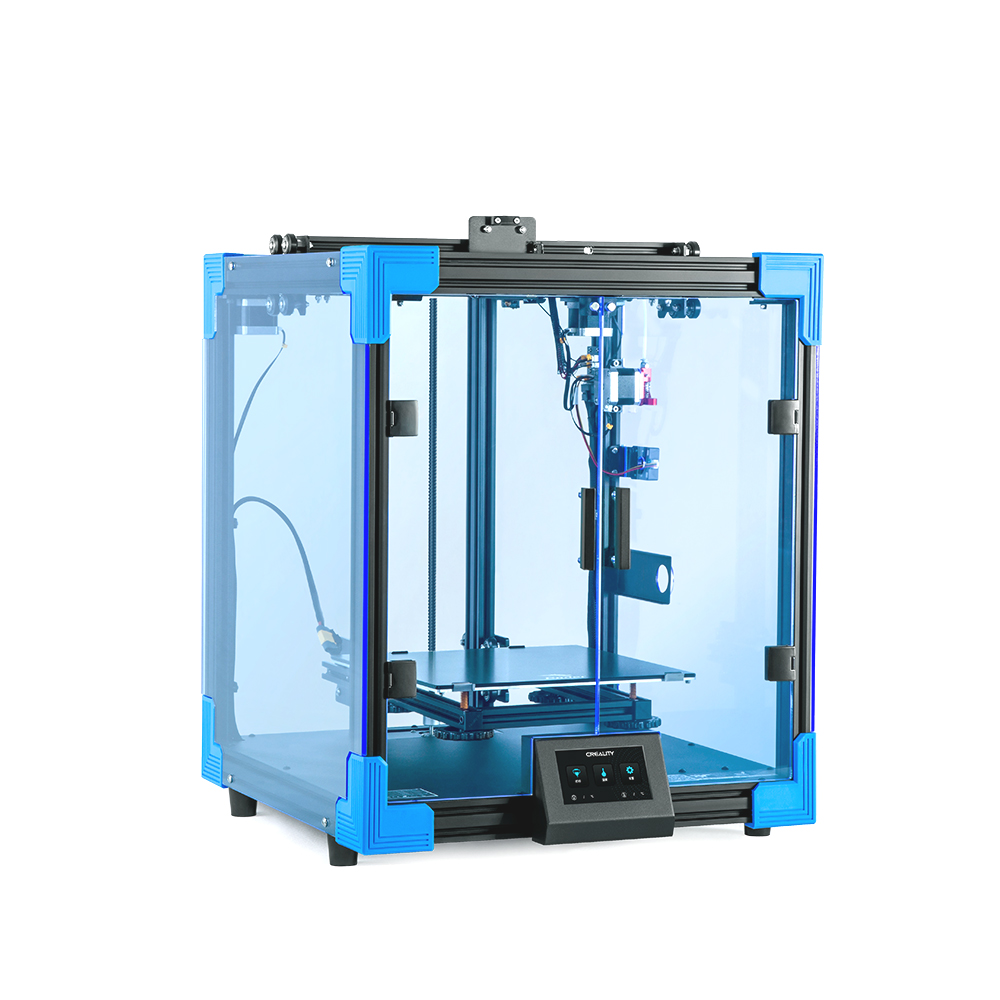 Semi-Closed Build Chamber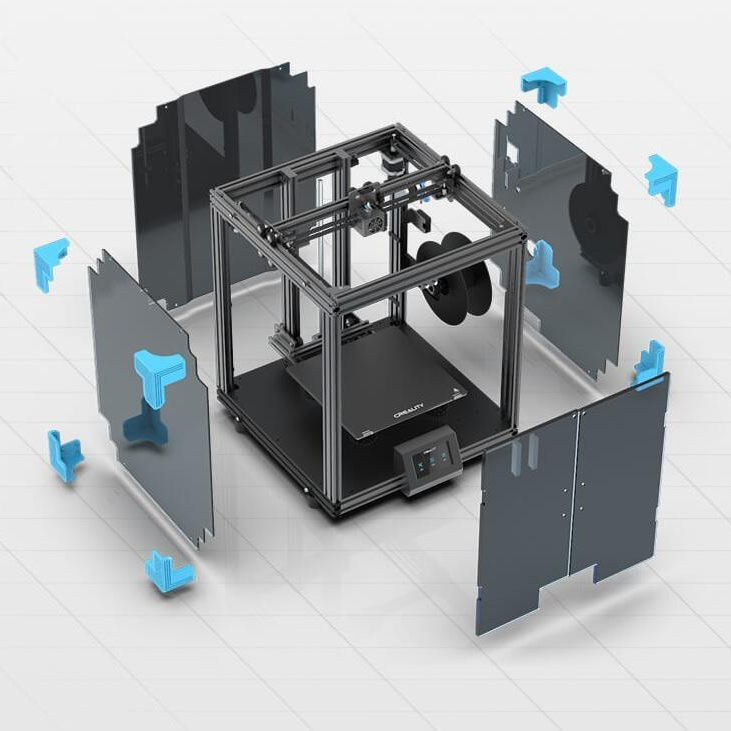 Stable Core-XY Structure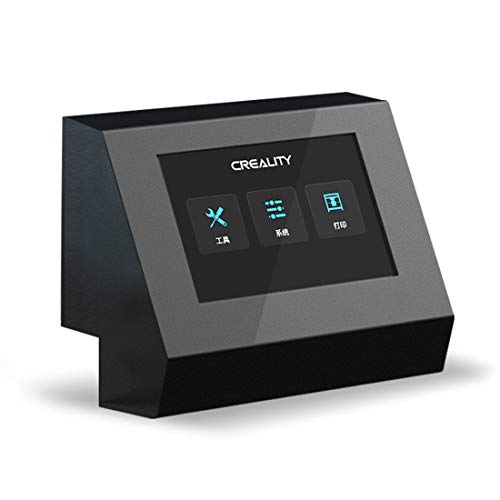 4.3" HD Touch screen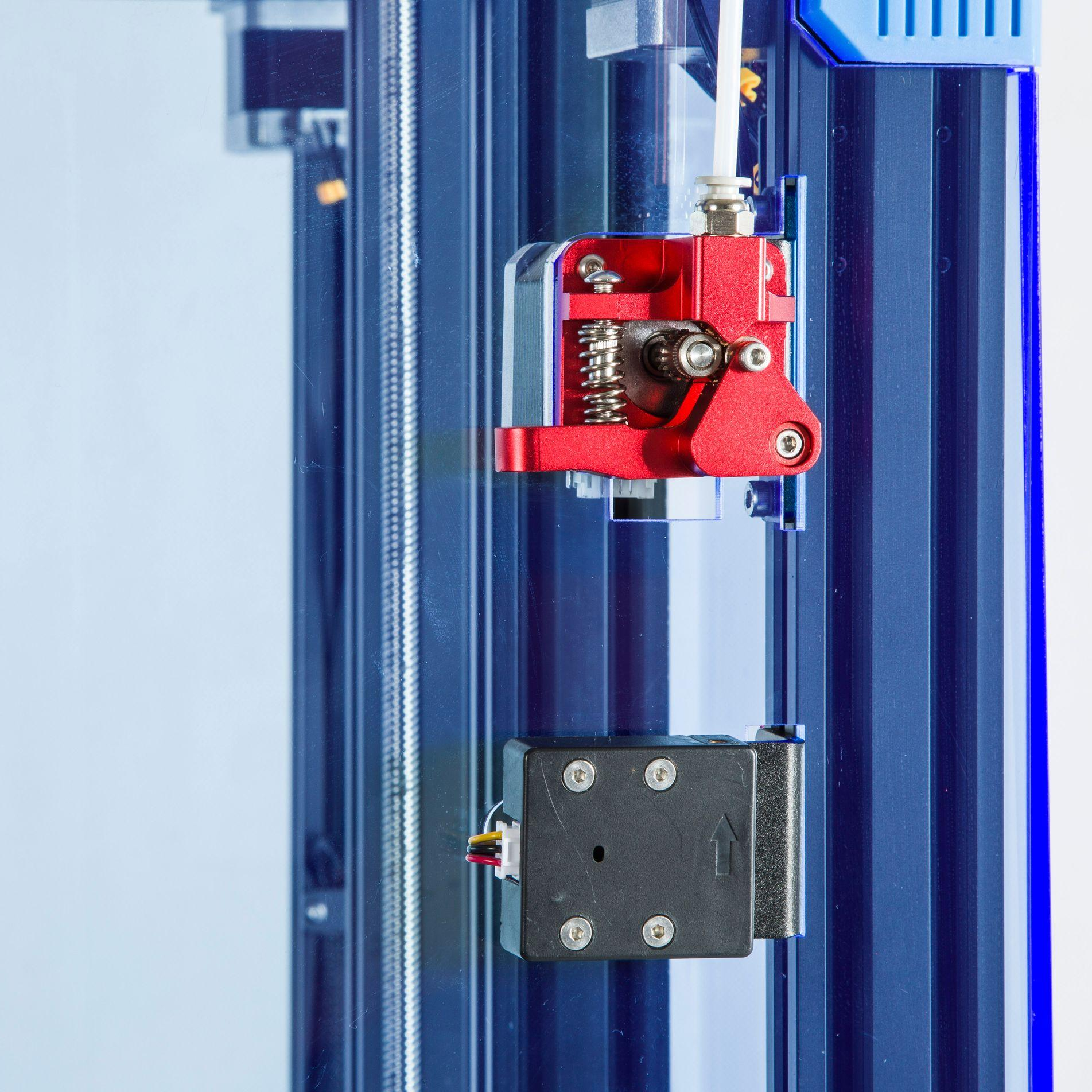 Filament Runout Sensor
Ender 6 Unboxing, Set up, Bl touch Installation
Video 1: How to assemble and set up

Video 2: Ender 6 BLtouch Installation and leveling

*Parameter comparison - Ender 5 vs Ender 5plus vs Ender 6
Product
Ender 5 PLUS
Ender-6
Ender-5
Ender-5 Pro
Silent operation
N/A
TMC2208 drivers
N/A
TMC2208 drivers
Printing Size
350*350*400mm

250*250*400mm

220*220*300mm
Printing Speed
40-80 mm/s Recommended

up to 150mm/s

40-80 mm/s Recommended
Support Filament
PLA/TPU/ABS/PETG
PLA/TPU/ABS/PETG
PLA/TPU/ABS
Leveling Type

With Bl touch

Manual leveling

Manual leveling
Printing Platform
Carborundum Glass Platform
Carborundum Glass Platform
Magnetic Plate
Stepper Drivers
 (A4988 )
TMC-2208


Screen
4.3" LCD Touch Screen

4.3" HD Touch Screen

12864LCD Screen (Portable knob)
Power Supply
350W MEANWELL
350W CHENLIANG
Landy
Z axis screw
Dual z-axis
Coe-XY
Single z-axis
Y axis Motor
42-48
42-48
42-40
Filament Sensor
yes
yes
no
Power off Resume
yes
yes
yes
Automatic Sleep Mode
no
yes
no
Other
English/Chinese
9 Languages;
English/Chinese
Firmware Flash
USB
USB
SD Card
SD/ISP
Nothing but issues
Straight from the box I've had nothing but issues. Biggest issue I had was the sd card reader. It doesn't read anything not a single file I put on it. I've emailed for help multiple times and even tried getting it replaced and suddenly everyone stopped emailing me back so I can't get it replaced by them. Next issue is the feeder. Doesn't even grip my material anymore and I ordered an upgraded one and not even that works either. The bl touch that you can buy for this ender doesn't work I ran 90 tests and only had 2 work properly. I asked for a replacement aswell and suddenly stopped replying to me aswell. I have to buy a whole new feeder and bl touch I just gave up on because that was $60 I wasted and a whole month worth of time (literally) waiting for it to come in wasted. I regret buying this p.o.s. I'd be spending my money better by shredding it (the money). Because after shredding it I don't have to buy an upgrade/replacement or email someone back just to be ignored and no longer helped.
Qualité remarquable
Lors de la réception, emballage intact.
Composants très bien emballés.
Qualité de finition remarquable.
Excellente imprimante 3D.
Great Printer - needs direct drive
Really love this printer. It's great but needs a direct drive to print ABS better. For PLA, this is very nice, very fast, and very precise. I want to order more of this printer it's so good.
High precision, good quality, pretty design and MAX SPEED!!!!!!!!!
Amazing machine although I had to implement FOUR homemade upgrades covering some unexpected lacks. Additionally, after some print tests, I've tuned some gcode parameters in the slicer trying to get the best in quality and speed.
UPGRADES:
1.- there is not an external usb interface out of the box for connectivity and remote management but if you open the bottom cover you can connect a microusb to the main board but be careful to remove the VCC PIN of your cable in order to avoid undesirable surprises.
2.- The structure doesn't include any light/lamp to monitor printing processes. I've taken advantage of the unused VCC output at the microusb mainboard connector (plus GND) to plug there power for a 5V black flat led lamp mounted at the top of the structure (it looks really nice, totally integrated). Wires looks invisible, going from the lamp to the bottom box through the aluminum structure (I had to design/print some small black clips fixing the cable inside the aluminum bars)
3.- Hot-end fan is too noisy so I've replaced it with one ultra silent Noctua plus one stepdown (a mini 24v to 12v converter) inside the bottom box.
4.- Filament spools rubs the transparent panel all the time so I've mounted a thin foam ring between them protecting the panel
Now it looks great but there is a fourth enhancement pending:
- A transparent curved top cover to preserve temperature inside will allow printing with other type of materials
(Creality crew, please consider it a suggestion)
TUNING TIPS:
- For PLA, set temp bed to 60-65º. With lower temp PLA doesn't stick well
- Increase hot-end temp when increase speed: 210 is good for 100% speed, 220º for 200% and 230º for 300%
- For high speed don't select complex fill patterns in order to avoid issues. Lines and zig-zag patterns work fine.