Creality Sonic Pad Klipper Tablet Plug and Play!
2022-09-12
Creality's Sonic Pad is a 7-inch touchscreen running on Klipper firmware and powered by a 64-bit operating system. A powerful combination of software and hardware ensures unparalleled 3D printing performance!

*Latest Update:
1. Added Pre-configuration setting for Ender-3 Pro, Ender-5 Plus, Ender-3 Max, Ender-3 S1 Plus, CR-10 Smart, CR-10S PRO V2, CR-10 V3
2. Added self-configuration option
3. Optimized resonance compensation function.
4. Fixed known problems about z-axis compensation.
5. Fixed known bugs.
6. Support Mainsail LAN control.
7. Open user SSH operation interface.
As always, we did some testing on the claimed features before launching. Let's see what we find out!
---
Features 1: Highly Integrated, User-friendly installation
1. Easy Connect to the almost Any FDM Printer
With a USB cable, the Sonic Pad can be connected to almost any FDM printer. A detailed user manual well explained the installation of the touchscreen step by step. Additionally, Sonic pad has already been pre-configured for Ender 3 V2, Ender 3 S1, and Ender 3 S1 Pro, owners of the 3d printers above can just plugin and start off using!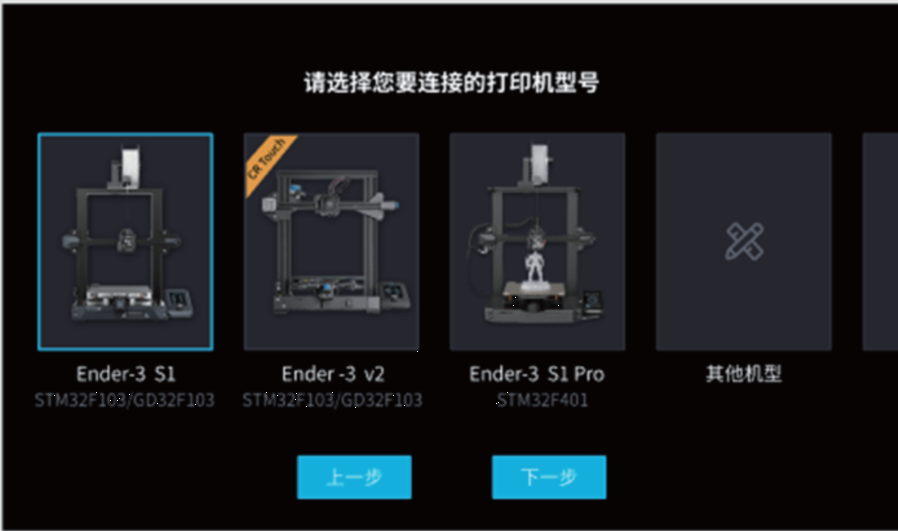 2. Simplified Klipper operation with Sonic Pad


The complicity of installation and usage has always been a barrier for inexperienced 3d printer owners who want to try out this powerful firmware. While we now present you the Sonic Pad which can connect to almost any I3 Frame type FDM 3d printer via a USB cable.
- Support (hot bed) PID calibration
PID stands for "proportional-integral-derivative", which essentially determined how the printer heats the hotend and hotbed. By PID tuning, your 3d printer can heat the specific elements to maintain a certain temperature without much variation. It is a powerful function to decrease artifacts, lines, gaps and etc.
In the past, you need to perform 7 steps to activate PID Tuning on a Klipper-running 3d printer, including sending commands to the 3d printer by G-code terminal, which is quite not user-friendly to inexperienced 3d printer owners. While Sonic Pad makes the whole thing much easier! Sonic Pad comes with a built-in PID function that you can use without hassles. You can always re-run the calibration later if you decided to change your typical temperatures (when changing materials, for example).

This article written by Jackson O'Connell(ALL3DP) explains PID in detail.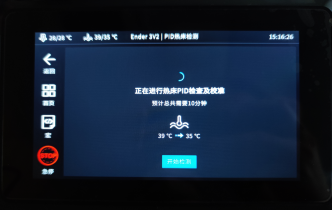 - Support a real-time monitoring and time-lapse shooting can be realized after connecting an external camera
Notice:
1. For time-lapse photography, a photographic file will be generated only when the file is completely printed, and a photographic file can not be generated if the power run-out/is manually terminated halfway through the printing process. (not mentioned in the manual)
2. encrypted camera cannot be used with Sonic Pad. (not mentioned in the manual)
3. Vibration compensation is only available for Prusa I3 frame type 3d printer (Ender-3 series)
- Resonance compensation Features(input shaping)

This is a unique feature to Klipper which cancels out the resonances, which always leads to "fish-scales", "ringing", and other repeating artifacts. More impressively, it can do this semi-automatically using an accelerometer (included in the pack) attached to the print head to accurately measure the harmonics and vibrations that become an issue as print speeds increase.
Available. Presently this function is for DIY I3 structure type models (Ender-3 series)
- Deft with User-defined Macros
Will connect to Creality Cloud and supports the Customizable programming, cloud slicing, remote control, and multiple printer controls at the same time
In the Beta test, the Creality Could App is yet to be connected with the Sonic Pad and we are still waiting for an update in the near future.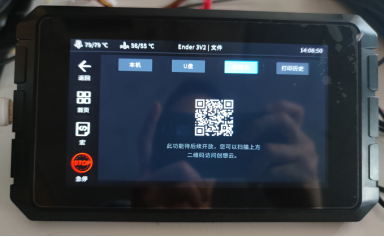 Problems we found in testing:
At present, you can not resume printing after power off.
When pausing printing about 10-30s, choose stop printing, then an error report will appear which shows that the size is out of range
Suggested solution: When this error occurs, you need to move the Z axis separately, and then return the XY to zero, to continue printing normally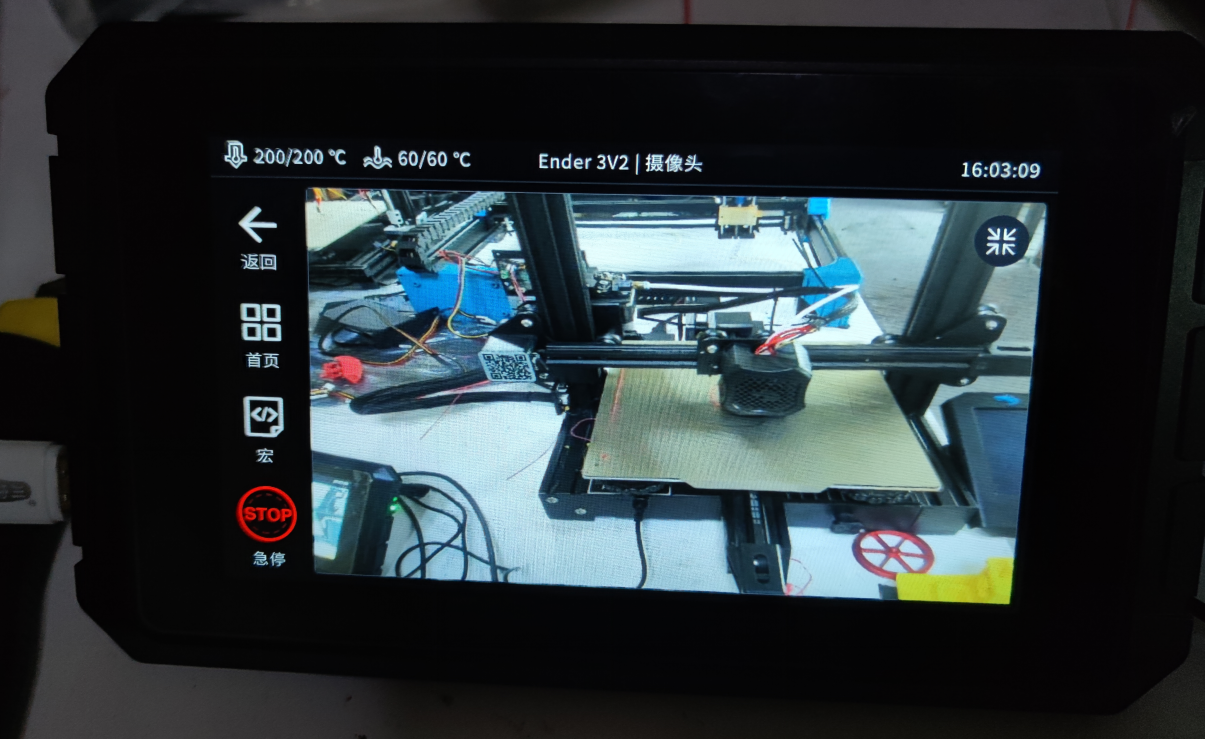 Features 2: Faster printing without sacrificing quality
Thanks to high-precision algorithms, which the Sonic Pad uses, prints with higher print speeds are possible. During high-speed printing, the integrated input shaper function reduces vibrations and dampens noise - with the same quality!
We did several sets of printing tests.
When the printing speed was 50mm/s, 5 models(3Dbenchy, cube,Deadpool,Astronaut, iron man) were used respectively on Ender-3V2, and Ender-3V2+Klipper for tests
You'll find 10-30% faster print speeds with the Sonic pad attached. Also, it has been proved you will save more time when printing complicated models/infill.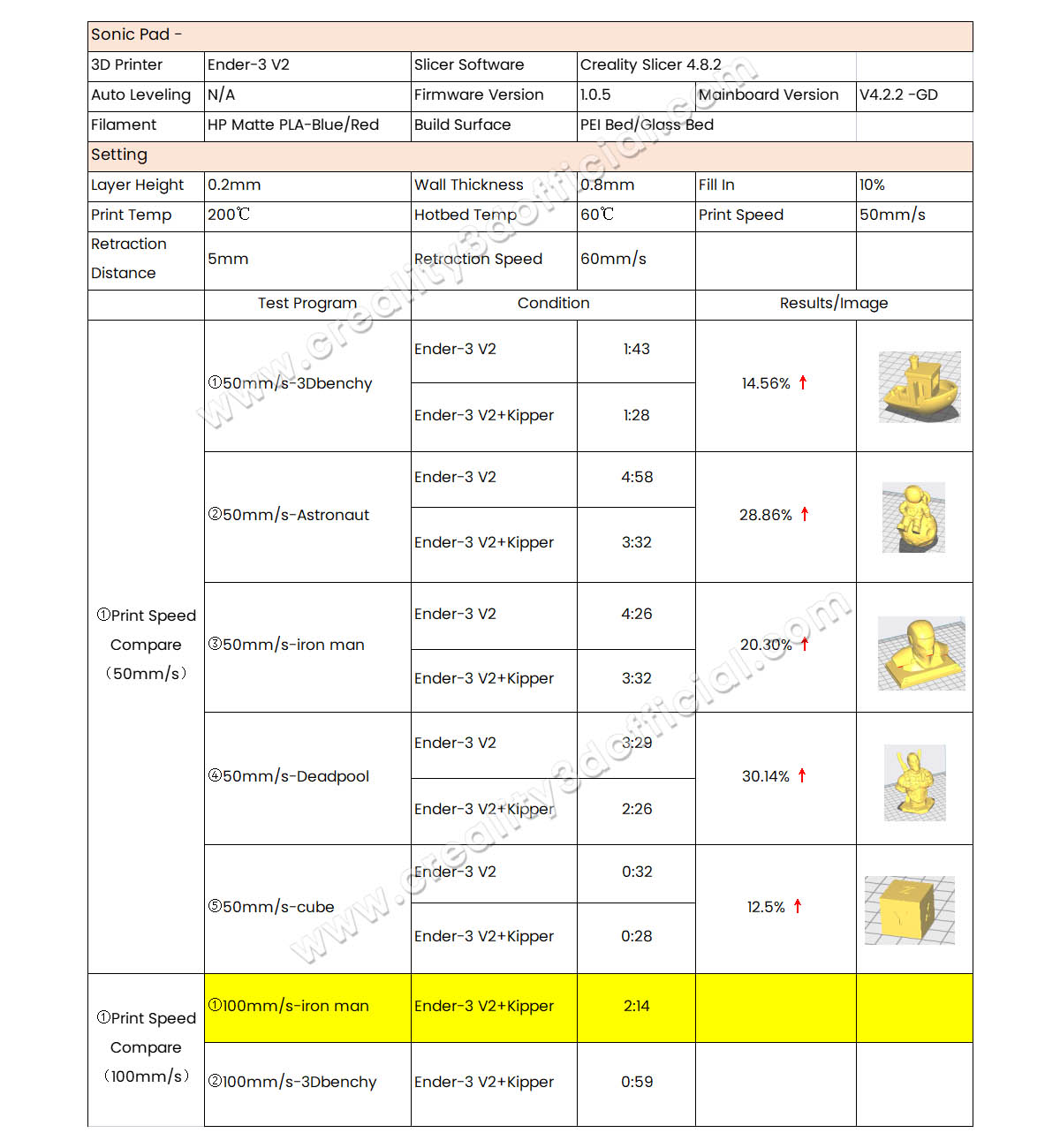 Features 3: Intelligent print preview, With model preview
The Sonic Pad allows previewing models sliced with Creality Print, Ultimaker Cura, Prusa Slicer and Super Slicer. This way you know in advance what your finished prints will look like!
Notice: [Presently, Real-time preview is available for models sliced with Creality Print]
Feature 4: Rich Extensible Interfaces, Online and/or offline upgrade
The Sonic Pad includes:
4 x USB 2.0 ports
1 x RJ45 connector
1 x WiFi Module
1 x G Sensor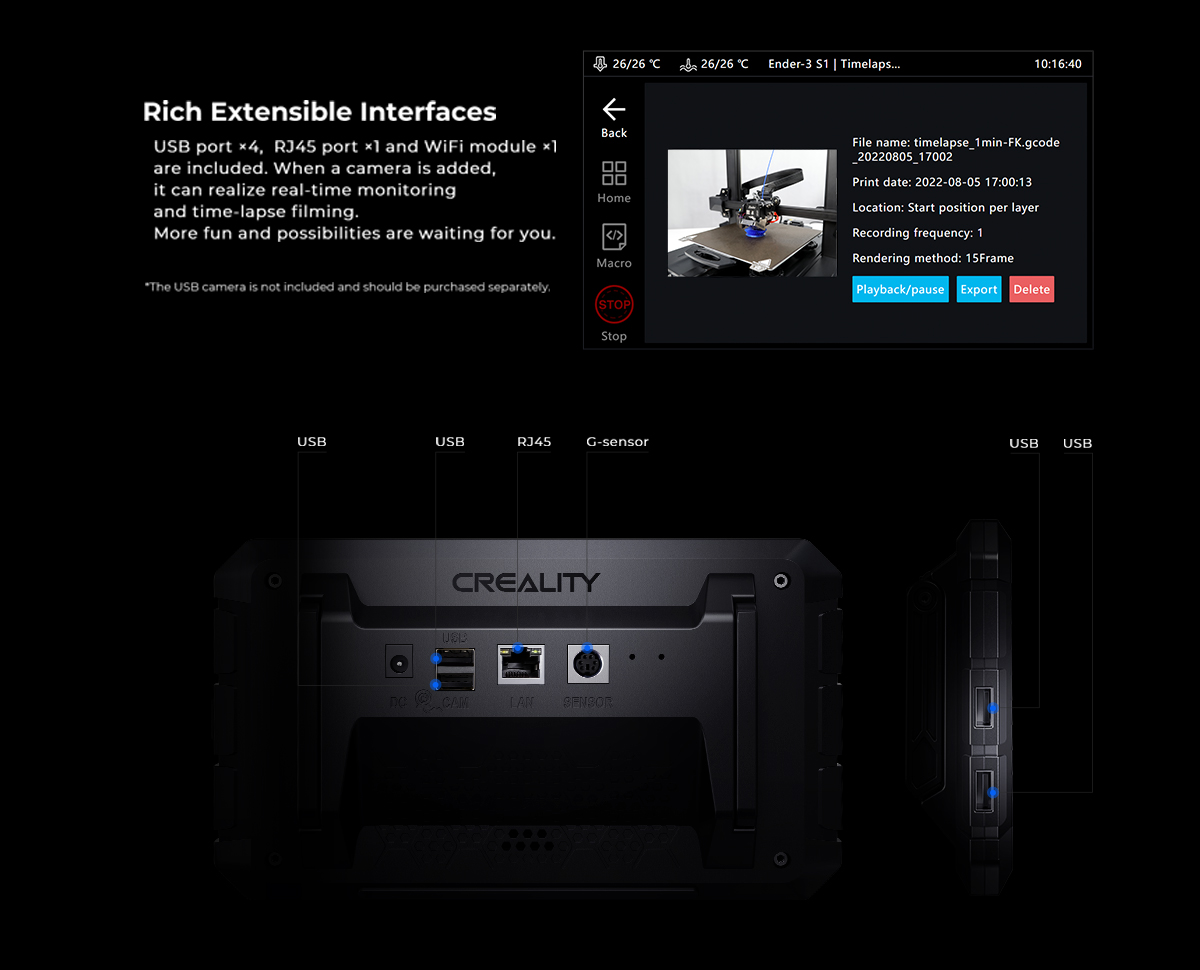 If a camera is connected, your printing processes can also be recorded on video and shared with your community.
You can either upgrade the pad online via OTA or offline via a USB disk. Quite handy, isn't it?
Features 5: Access from different platforms
Whether you access the Creality Sonic Pad via the integrated touchscreen or via the web user interface is entirely up to you!
Features 6: Open-source Commitment
Creality Sonic Pad follows the rules of the open-source community. Users can modify and customize the source code according to their own needs.
To keep pace with the fast-evolving Klipper firmware, the Sonic Pad can be upgraded via either OTA or a USB stick enabling users to get the latest Klipper features at the earliest time.
https://github.com/Klipper3d/klipper


In this article, we've gone over the current features of Creality Sonic Pad. Overall, it is a powerful upgrade of Ender-3 Series 3d printers with unlimited opportunities. Any thoughts about Creality Sonic Pad? Please leave a comment below!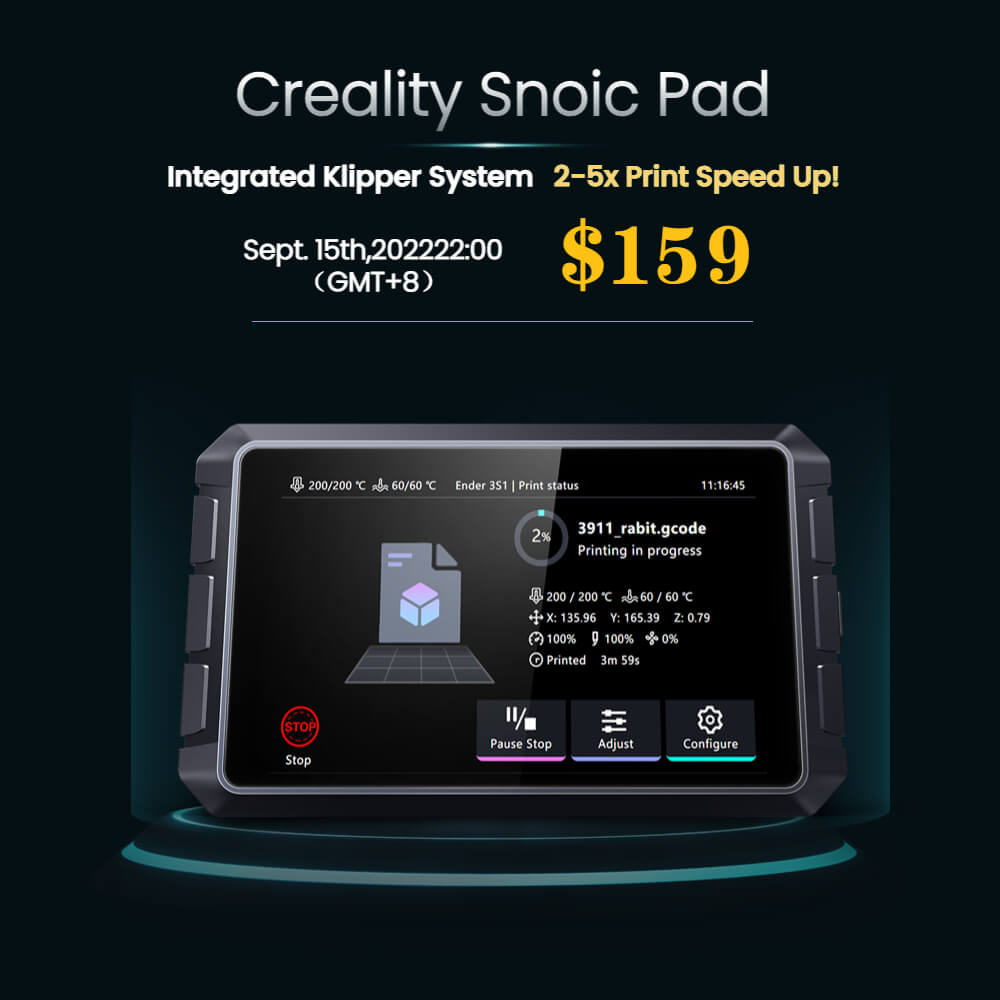 Creality Sonic Pad, 3D Printing Pad Based on Klipper Open Source/ 2-5x Printing Speed Up!
Highly Integrated
Speed Up Printing While Keep the Quality
Intuitive Model Preview
Deft with User-defined Macros
Control Access from Multiple Platforms
Rich Extensible Interfaces
Open Source Commitment