Product Description
Shipping Free to United States, Australia, United Kingdom, New Zealand, Singapore, Malaysia.
Most Of EU Countries (Austria, Belgium, France, Germany, Netherlands, Denmark, Italy, Portugal, Spain) Duty-Free. 
Creality 3DPrintMill (CR-30) Belt 3D Printer Spec:
3DPrintMill is a feature of infinite-length printing and bulk printing, thereby time-saving in printing and cost-efficient. The special infinite-Z belt is the first Creality 3D printer to realize infinite build volume in the world.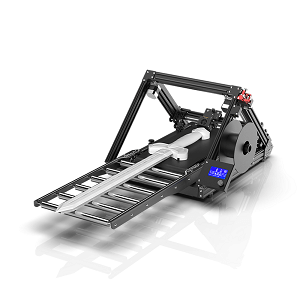 Infinite-Z-axis for Endless Printing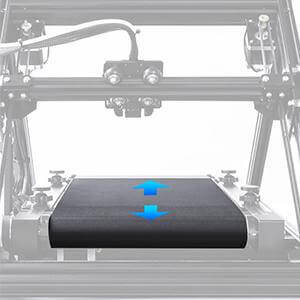 Wear-resistant Nylon Rolling conveyor belt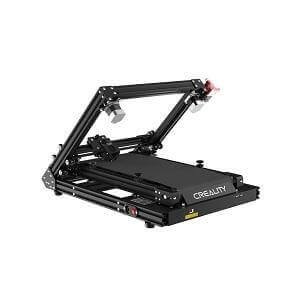 Core-XY Structure&45° Printing Angle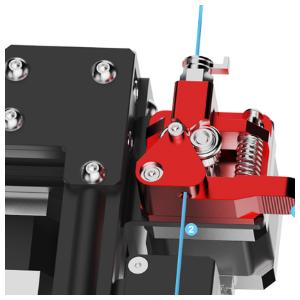 Dual gears metal extrusion mechanism
Exclusive Slice Software For CR-30
Infinite-Z-axis for Endless Printing: Equipped with the rolling conveyor belt, it realizes continuous printing. No worries to print the infinite length model. High productivity, time-saving, and cost-efficient (Print dimension: 200*170*∞mm) *A removable extension bracket is available for installing to prevent the model from falling during printing.
Stable CoreXY Structure: The stable and sturdy CoreXY precision structure with isosceles right triangle support gives you an extraordinary printing experience.
Nylon Conveyor Belt: Made of wear-resistant Nylon, the conveyor belt features excellent adhesion to the model. The printed model can fall off automatically as the belt rolls to the end, thus free your hand Strong adhesion| Hassle-free removal | Wear-resistant| Well-balanced conveyance *Easy to replace the conveyor belt.
Dual gears metal extrusion mechanism: High-quality dual gears metal extrusion, combined with the 45 degrees slanting nozzle realizing constant printing of >200 hours without pressure.
Unique 45° Printing Angle: The unique 45 ° angle design offsets the limitations of the vertical nozzle structure. Equipped with a high-performance nozzle kit, it achieves continuous printing along with the horizontal Z-axis.
Filament Breakage Detector: Whenever there is a possible accident like filament run-out or filament breakage, the smart sensor forces the machine to suspend printing. Printing will be automatically resumed after the new filament feed-in.
Ultra-silent Motherboard/Fans to Cool Down Ensure/Resume Printing. 
Creality 3DPrintMill (CR-30):  Unboxing, assembled, set up, and first print!
Video 1: How to assemble and set up
Video 2: Time Lapse of #3DPrintMill Printed 6-Meter Rod
Video 3: CR 30 leveling tutorial
Product Reviews and updated
Video 1: Naomi Wu's 3DPrintMill CR-30
Video 2: 3D Printing Nerd #3DPrintMill Update! Long Profiles Prints
Video 3: Maker's Muse Creality CR-30 Review: Long sword(Model Print)

Works well, held back by silly mistakes
Creality machines are really conflicting for me, especially this one.
Setup was almost flawless, until I ran into an issue or two where the instructions are blatantly missing steps, or where it requires two people to assemble for no good reason.
Printer works well, but the included slicer doesn't work at all, you have to scour the internet for guides on how to get a slicer working. There's no information included whatsoever as to how to do any work on the machine, it's all guess work.
The controller is cooled by a fan that has this grate in front of it that unnecessarily makes it sound like a jet engine.
Now the nozzle smashes into the side of the printer whenever I stop a print, I have no idea if it's the machine or the weird slicer I have to use.
Idk, it's as if someone cloned a really competent product, it can work if you're willing to put effort into it, but with just a few small improvements this printer could have been perfect, such a missed opportunity.
Creality tends to take good ideas and machines and finds some way to screw it up, not to the point where it doesn't work at all, just so that you need to spend a few dozen hours doing their job for them. I regret purchasing this product, I can tell it's going to steal hundreds of hours of my time, it's already taken days of my life from me.
First 24hr
Shipping to Canada, required duty (35$~) and was quick delivery ordered May 8th received May26th. The Assembly was quick as most parts are preassembled. It's a little slower printing than expected, as I have started the Benchy included and it's been 12hrs, but the size and quality are looking great so far. I strongly recommend people to join the discord groups and forums to trouble shoot.
Backer 973: Amazing results
This printer is amazing, high quality results, prints really well, and set up is pretty straighforward. I though levelling and calibration would be difficult but it was easy.
Print quality is amazing, and once you get you head around the 45º angle you end up using way less supports.
I'm having a lot of fun with it and now is my favorite 3D printer.
Bag clips
You never have enough bag clips. You keep printing them and they get lost so you need to print more. I told cura to print cam lock bag clips and the printer started popping out bag clips every 2 hours until i told it to stop.
Im so excited to try this machine
I can't wait to try the cr-30 I been following it since the day it was brought to light.